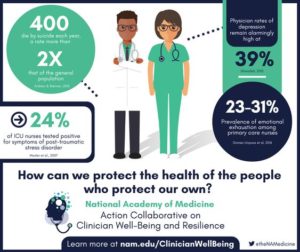 I'm participating today as a "consumer/patient" voice in a meeting on clinician burnout, part of a project of the National Academy of Medicine. I was going to be there in person but a bad and contagious coughing cold kept me home, so I'm watching and listening remotely.
Remote participants often don't get as much chance to speak up, so I'm doing what empowered people do: find another way to get heard.:-)
---
Burnout is important to me, because I'm deeply grateful to the highly trained people who saved my life 11 years ago, and I want them to have a good life. But look at the statistics in the project's infographic here. It drives me nuts (and makes me sad) that the doctors and nurses who put in all those years of training, and gained their years of experience, are so often unhappy with their working life.