Patient voices are now being accepted (and sometimes even invited) as authors in peer reviewed publications, a sure sign of culture change in medicine. Patients being in the literature is important, because it's what future scientists will build on as they create the next generation of literature. Essentially, if you're not in the literature, science has no way to build on your thoughts.
Below is a list of my most cited works. For a longer list, here are my author pages on two search engines: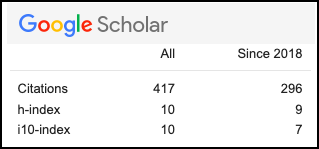 Google Scholar: my work as first or second author has been cited 417 times (see Google Scholar screen capture at right); my h-index is 10 (a measure of breadth and frequency of one's citations – more on this below)
PubMed (the National Library of Medicine's index)
Altmetrix: As another sign of culture change, it's interesting to see below that The BMJ is now using Altmetrix as a measure of document performance. Altmetrix pays attention to public "citing" of a paper, i.e. social media discussion – a distinctly different measure than what other scientists notice. Importantly, old media have a lag time: it takes years for new work to make a splash there. Altmetrix is new media: it measures immediate impact in today's discussions.
Most Cited
Last updated July 2023
Per Google Scholar
Title and publication
Cit'ns
Pub Date
From patient centred to people powered: autonomy on the rise
Invited essay (co-author) in BMJ, 2015.
Altmetric discussion score 242 (96%ile of all BMJ articles ever)
84
2015
"I want to know everything": a qualitative study of perspectives from patients with chronic diseases on sharing health information during hospitalization
M Benham-Hutchins, N Staggers, M Mackert, AH Johnson, D deBronkart
BMC health services research, 2017
67
2017
How the e-patient community helped save my life: an essay by Dave deBronkart
Invited essay in BMJ, 2013.
Altmetric discussion score 234 (96%ile of all BMJ articles ever)
50
2013
Assessment of US hospital compliance with regulations for patients' requests for medical records
CT Lye, HP Forman, R Gao, JG Daniel, AL Hsiao, MK Mann, D deBronkart, …
JAMA network open
42
2018
Let Patients Help!: A Patient Engagement Handbook – How Doctors, Nurses, Patients and Caregivers Can Partner for Better Care
(book) D deBronkart, DZ Sands
26
2013
The patient's voice in the emerging era of participatory medicine
The International Journal of Psychiatry in Medicine 53 (5-6), 350-360
19
2018
Meet E-Patient Dave (TED Talk)
10
2011
Evaluation of the patient request process for radiology imaging in US hospitals
CT Lye, HM Krumholz, JE Eckroate, JG Daniel, D deBronkart, MK Mann, …
Radiology
10
2019
Developing and testing a personalized, evidence-based, shared decision-making tool for stent selection in percutaneous coronary intervention using a pre-post study design
AK Chhatriwalla, C Decker, E Gialde, et al
Circulation: Cardiovascular Quality and Outcomes 12 (2), e005139
10
2019
Gimme my damn data (and let patients help!): the #GimmeMyDamnData manifesto
D deBronkart, G Eysenbach
Journal of Medical Internet Research 21 (11), e17045
9
2019
A new model: physician-patient collaboration in online communities and the clinical practice of oncology
HJ West, D deBronkart, GD Demetri. ASCO Educational Book 32
9
2012
Patient design: the importance of including patients in designing health care
B Meskó, D deBronkart. Journal of Medical Internet Research 24 (8), e39178
7
2022
Selected additional articles
Additional papers and articles on topics I consider vital in the evolution of care to be more patient centered.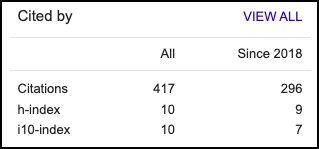 H-index
My H-index ("a metric that measures both the productivity and citation impact of the publications") is 10, comparable to a tenured academic professor
.