I'm honored to be the author of a new article in Patient Safety and Quality Healthcare magazine (PSQH): "How Patient-Provider Engagement Can Transform Patient Safety."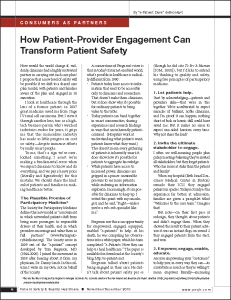 It's a companion to a Special Interest Keynote titled "How Patient/Provider Engagement Can Transform Healthcare," which my primary physician Dr. Danny Sands and I will deliver December 7 at the Institute for Healthcare Improvement (IHI) Forum in Orlando. It's my cancer story as seen from our two perspectives, as physician and patient, in the age of the internet.
Earlier versions of the talk have been titled "Illness in the Age of 'e'," but this event calls for a change – because participatory medicine is now a full-blown movement, with its own medical society, with its Journal of Participatory Medicine as well as the e-patient blog. Plus, significantly, patient and family engagement is now part of Federal policy – it's one of the "meaningful use" requirements for providers to earn financial incentives in the coming years.
Clearly, the age of participatory medicine – of patient/provider engagement – has arrived.
An early ally of the movement was Susan Carr, editor of PSQH. The patient safety movement clearly sees the value of patients and families being actively engaged in all aspects of care, so we talked this summer about how we really ought to do something together. Then we realized, the subject of our IHI keynote applies perfectly to patient safety, an important part of healthcare.

The result was an article, in the November-December issue of the magazine. (This is the issue that will be distributed at the IHI Forum.) Susan gave permission to post it early, before it arrives in the mail. Click to open the PDF (765k).
And remember: "patient" is a collective noun. Often, the person who's engaged in managing a patient's care is the parent or adult child of the one receiving care. Call us patients, caregivers, consumers, whatever – we're the ones who gain or lose the most from the outcome, and we're the ones who are on the case 24/7. We want providers to recognize our value and let us help.
Thanks to everyone in the safety and quality movement for their partnership, and especially to Susan and PSQH for the vision to move forward with this project.
________
The IHI Forum's website is here, and the full Forum brochure (PDF) is here.