I'm humbled, happy and grateful when someone sees value in my work. Recognition indicates the potential of inviting engaged patients into the conversation.

Boards, Steering Committees, etc. (pro bono)
Fellowships and Academic Honors:
Advisory and Disclosures
Awards/Honors
Aug 2021: Top 25 Healthcare Influencers You Need To Know And Follow
March 2020: Healthcare Global's Top 10 Social Media Influencers in Healthcare
February 2020: 10 Healthcare Influencers Every Marketer Must Follow (#5)
September 2019: HealthTech's 2019 Must-Follow Health IT Influencers
August 2019: Lincoln Health Network 10 Pharma Influencers You Should be Following on Twitter (#6)
August 2018: HealthTech's 2018 Must-Read Health IT Blogger List (#10)
April 2018: 25 Pharma Influencers You Should Be Following on Twitter (#3)
March 2018: Digital Health Today Top Twitter Accounts to follow in Digital Health
February 2018: Health Data Management 30 HIT experts to follow on Twitter (#6)
November 2017: Health Data Management 30 HIT experts to follow on Twitter (#7)
August 2017: 25 Pharma Marketing Influencers to Follow on Social Media (#13)
November 2016: 55 experts HIT execs should follow on Twitter (#6)
November 2016: 10 Industry-Disrupting Health Tech Influencers To Know (#6)
June 2016: Top Ten Healthcare Influencers to Follow on Twitter (#8)
December 2015: STAT's 18 Must-Follow Twitter Accounts about health and medicine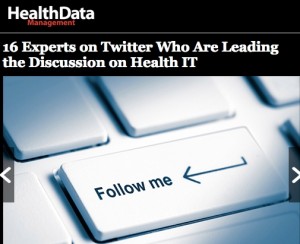 September 2015: Health Data Management's 16 Experts on Twitter Who Are Leading the Discussion on Health IT
July 2015: EMR and HIPAA "Health IT 99" (Health IT social media influencers)
November 2014: HIT Consultant 15 Influential ePatients and Patient Advocates to Follow
October 2014: HealthIT Outcomes Health IT Change Agents 2014.
May 2014: MDigitalLife 5: Who Doctors ACTUALLY follow – Healthcare People Edition. #2 in the list.
April 2014: eMedCert 100: Top 100 Twitter Accounts For Healthcare Professionals To Follow
February 2014: Healthcare I.T. News Man of the Year in "Shapers & Influencers"
December 2013: 100 Healthcare and Digital Health Influencers to Follow (Marie Ennis O'Connor)
October 2013: Mayo Clinic Center for Social Media – Platinum Fellow (see blog post)
July 2013: Health IT 100 most influential Twitter users (#47)
June 2013, MHADegree.org (Masters in Health Administration): Top 50 Healthcare Influencers To Follow On Twitter
December 2012, Forbes: 13 To Watch in 2013: The Unsung Heroes Changing Health Care Forever (by Leah Binder, CEO of Leapfrog Group)
July 2012: Health IT 100 most influential Twitter users (#46)
January 2012: Klout's Top 10 healthcare influencers From PCWorld: "Your Klout score is based on three major ranking factors.
True Reach is the number of people who act on and share your content, with spam and bots removed from the equation.
Amplification is a measure of how likely people are to act upon your shared content.
Network gives you marks for having top influencers in your circle; if they share your content, your Klout score goes up.
---
March 2011: Twitter Powerhouses (Huffington Post) "… they participate in the international, empowering conversation that Twitter provides to hundreds of millions. … What's different about these men and women? … they push beyond the boundaries of creativity, and use social media to impact and enrich the lives and ambitions of their followers."
---
February 2011: Health Engagement Strategy. Blog post here.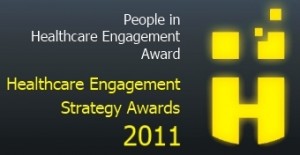 ---
January 2011: Nominee for Best Patient Blog, Medgadget, January 2011
---
December 2009: Health Leaders magazine's "Twenty People Who Make Healthcare Better" (with Dr. Danny Sands)
---
And from my previous life, in web marketing and analytics: November 2008: Salesforce.com "Appy Award" for marketing excellence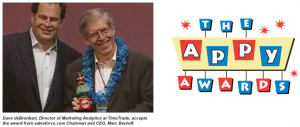 Accepting the award from CEO Marc Benioff