If I were the usual blogger I'd say "I'm humbled to say…" but honestly, I'm THRILLED! to say that today at the Mayo Ragan Social Media Summit at the Mayo Clinic, they announced a new Social Media Fellowship, and I was appointed to the inaugural class – the first five people appointed to this honor.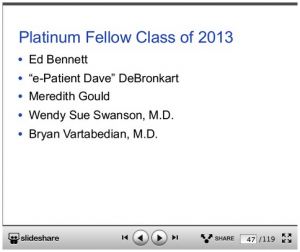 THRILLED. What more could I say?? At left is the list of the five of us – all friends of mine! We're gonna have a virtual kegger.
Here's the Fellows Program web page, which includes the 4 minute YouTube below. Around 2:50, center director Lee Aase describes this as "a lifetime achievement award … to recognize people who have made exceptional contributions to advancing the practice of social media in healthcare." Woot.


Here's the slide from the video defining the criteria:

Mayo's social media program is intentionally structured to match doctors' development: there's a social media residency, followed (for some) by a Fellowship of varying levels.  In the video the program is described by Lee and by Dr. Farris Timimi, the Center's medical director. If you're interested in adding Mayo training to your CV – on-site or remotely – have a look.
Thursday night Ginny and I will be visiting Mayo briefly, en route to a speaking engagement in Omaha.
Thank you to everyone who has created the new world of healthcare social media, and thank you to Mayo for having the vision to create this residency and fellowship program. I attended a couple of years ago, and I can attest, this is solid, practical, hands-on training.