Download free on Bookfunnel (PDF and Kindle are under "my computer")
or from these e-book stores.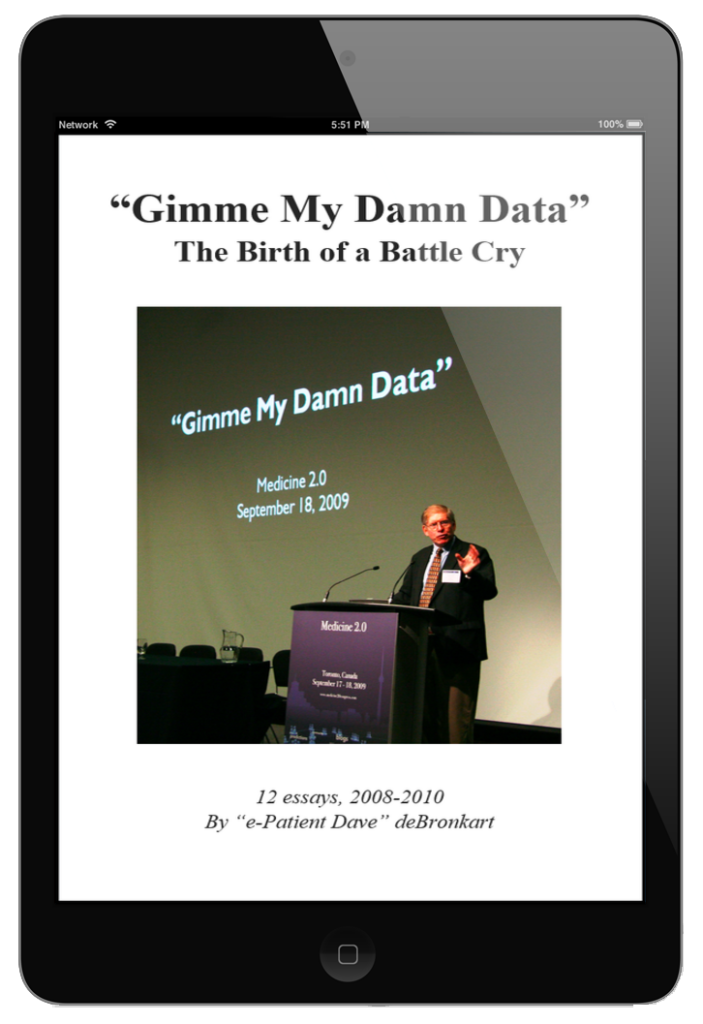 This book is a compilation of 12 essays (blog posts) that unfolded over two years, starting my odyssey as an advocate for patient access to their medical records.
The original articles are all available online for free, but it's compiled here for convenience, and I hope it will be of use to future students of health IT policy, because it tells how one patient trying to improve healthcare stumbled on a subject that others had struggled with.
Patients – including you – have a fundamental right to know what's in their medical record, but for all of recorded history, archaic attitudes have too often kept your data out of your hands. For decades hundreds of people have worked to give us access, and in 2021 the US Cures Act Final Rule has finally made it Federal policy that your data will be available via API (software interface), so you can pull it into health apps of your choosing, or share it with other doctors (or anyone you want!) or do anything you want with it. Because it's yours.
Why publish this compilation?
Lately a wave of health IT newcomers have been asking how I got into it, especially my 2009 demand "Just gimme my damn data!" that unwittingly became a rallying cry that spread virally and even became a rock video by the great Ross Martin MD and his garage band "Sons of Artemis."
---
Importantly, the book shows that the motivation for my journey was for patients to be able to take responsibility for their health and (when necessary) their care. And that in turn was motivated by the realization that the US health system, while it's full of brilliant people, as a system is a gigantic Gordian knot of financial incentives that keep it fixated on its own interests, not yours, not mine, nor your doctors' and nurses' interests. The system itself – not the workers in it – is a problem that impedes good care.
A full decade later those forces have played out with predictable results: the industry is far more expensive than it was then, patient satisfaction has not improved, nor have patient outcomes.
The remedy, I continue to believe, is to build a new ecosystem of health tools enabled by access to our data. I hope this book will convey the roots of this motivation, how vehemently parts of the system have objected, and the value and importance of patients' access to their medical information.
---
For context, I've added a page of comments from people wiser than me who were involved in the work before this story, during the story, and have continued the work.