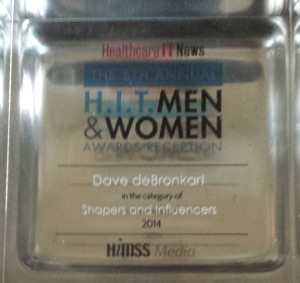 Monday night at the gigantic (37,000 people) HIMSS conference in Orlando (Health Information Management Systems Society), Healthcare IT News presented its 5th annual "H.I.T. Men & Women of the Year" awards. I was one of the nine nominees in the "Shapers & Influencers" category, and I was thrilled to learn that I was one of the three winners!
Even better, famed art activist Regina Holliday was another. So our Society for Participatory Medicine nearly swept the category. That's a huge acknowledgement in a Society that still barely knows patients exist – not a single patient was invited to speak in the big hall.
My thanks to Healthcare IT News, and to emids, the company who founded the award.