In July I gave a virtual talk for Dysautonomia International. Dysautonomia is a family of different conditions, sometimes surprisingly diverse, all related to the autonomic nervous system (ANS). A patient-started and patient-run organization, Dysautonomia International is doing a stupendous job of educating and advocating about this field. The purpose of my talk was to encourage the membership, too, to be proactive in speaking out about how they see things.
The video below is the entire 82 minute closing session of the conference. My talk starts around 24:00, but I encourage you to watch those first minutes, to listen in as patient/founder Lauren Stiles presents what the organization has been doing and introduces this year's three award winners. This is a great advocacy organization!
About dysautonomia
Most of us have never heard about dysautonomia, and that's always a problem. Here's what their website says:
The Autonomic Nervous System controls the "automatic" functions of the body that we do not consciously think about, such as heart rate, blood pressure, digestion, dilation and constriction of the pupils of the eye, kidney function, and temperature control.

People living with various forms of dysautonomia have trouble regulating these systems, which can result in lightheadedness, fainting, unstable blood pressure, abnormal heart rates, malnutrition, and in severe cases, death.
The ANS has two parts. The sympathetic part is the "fight or flight" system; the parasympathetic part can be called "rest and digest." Here's a graphic from their site:
As you can imagine, when the autonomic system is out of whack, you can develop many different symptoms, which makes it hard for most doctors to recognize and diagnose accurately unless they've had specific training.
You can get conditions like POTS: Postural Orthostatic Tachycardia Syndrome, in which when a patient stands up, their heart races – sometimes to the point where they faint. The autonomic nerves are responsible for a lot of bodily functions and systems, so when the system stops working properly, it can cause many different symptoms throughout the body, which can be overwhelming to patients.
Autonomic nervous system problems can be caused by many different diseases, from Sjogren's to Lyme to some forms of cancer, so it can be challenging for doctors to sort out what's going on. Since most doctors don't receive much training on autonomic disorders, the patient often bounces from doctor to doctor without anyone realizing their autonomic nerves are at fault.
A good example is Kate Sheridan, whom I've blogged about before: a star student and athlete in 8th grade, she got a nasty case of Lyme Disease that led to other complications (including POTS). She became totally disabled, and nobody could figure it out. As her mother Kristina said in their shared keynote at FHIR DevDays in Amsterdam, in years of struggle they went through 30 doctors (imagine doing that!) and got 15 diagnoses (imagine that!) yet nothing worked.
And it all turned out, ultimately, to be related to her autonomic nervous system. The girl had been so disabled that the parents were cancelling their retirement plans so they could care for their daughter forever. Instead, by 2018 Kate had not just recovered; she graduated from Oxford with a master's degree. Once the autonomic problem was recognized, full recovery became possible.
About the organization
I was especially gripped by this organization, and the diseases they work with, because I think they're onto something of very deep importance: an entire new realm of diseases that most of medicine doesn't understand yet. It has to do with the connection between bodily systems (cardiology, digestion, virtually anything) and the nervous system, particularly the autonomic nervous system. Their website spotlights their work in the three key areas: awareness, advocacy, and advancement (directing research), and has a great "what it is" page and "10 things to know" flyer.
Patients speaking up and science listening (sometime)
In researching this talk I heard numerous patient stories around dysautonomia where doctors without specific training couldn't figure it out so they suggested the patient must be mental. This is so unscientific, and it's especially infuriating because so many of these patients are women. I created this slide for my talk: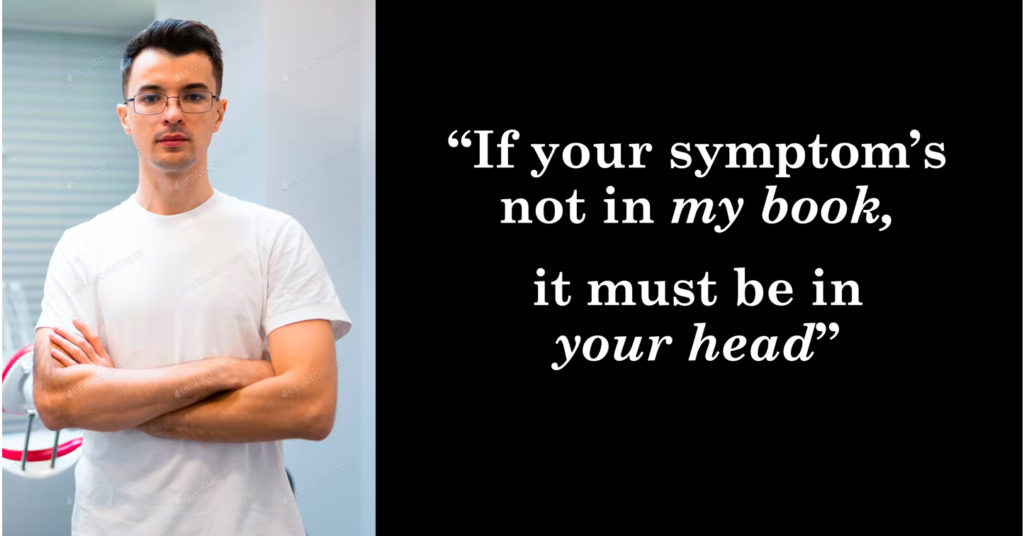 That's why the organization is focused on awareness, advocacy and education: doctors whose training is out of date need to be informed. The website has a for physicians subsite, in addition to ones for patients and for researchers.
I think it's this century's medical frontier
All that is why I'm sticking my neck out to say that I think this subject will be the next huge breakthrough in medical science. I suspect that when this is figured out it will be as important in this century as bacteria and antibiotics were in the 20th century: a true breakthrough in understanding health and disease, enabling a major new generation of treatments.
To my colleagues in medicine, I'll say this: it's time to stop saying, "If I don't understand it, you must be nuts." It's time to fess up: "I have to be honest – we know something's going on but we don't yet know what." That is the scientific response to things we don't understand yet. Get the training. (Options from videos to CME and Grand Rounds are on the D.I. site.)
And please – as we ultimately did with Long COVID – listen to front-line reports from the sick people, even when their reports don't fit your education to date.
Speaking of that – in the video Lauren mentions the dysautonomia aspects of Long COVID and ME/CFS. Here's a great January article about that aspect of the Long COVID mystery by my friend Susan Carr. (See why I think this whole subject hints at an enormous breakthrough about conditions that make no sense today?)
It's no coincidence that Long COVID was initially researched by patients themselves, when doctors weren't yet interested. Listen to patients. Let patients help improve healthcare.
p.s. Dysautonomia International's annual awareness month is October. Click the image to view the promo email.