The other day I recalled Ted Eytan's old series My Own CIO, from the days when he cobbled together the tools he needed. That was my first clue that in today's world, an individual can compete with the big boys … or at least not be constrained by lack of power tools.
I hope to continue in that spirit here, adding posts as Ted did, in the hope that others – especially other e-patient speakers – can benefit as I did.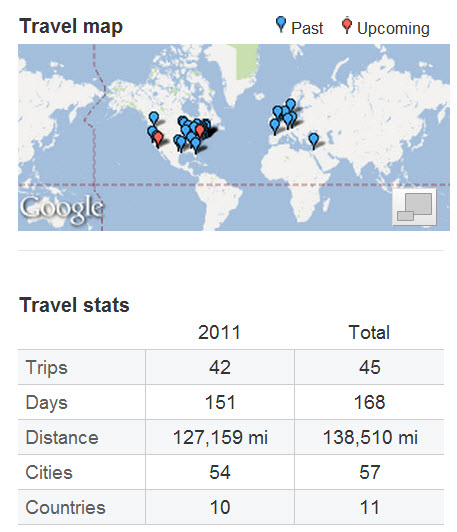 Travel: a logistical nightmare
The other day I noted that evangelism requires taking it to the field, and my schedule page reflects that. This is complicated – a lot – by the reality that a peak conference season often requires traveling from one event to another, coordinating plans between different travel agents, which makes it hard to pick the right flight in advance, and often involves added costs later when plans change (ugh).
Here are the tools I use all the time.
And of course all this stuff is free. There are upgrades available with more features, for a cost.
A final note about Healthcare Transformation Through IT:
All this is what happens when there's a vast ecosystem of data that can easily be interfaced and interconnected. See? Innovators pounce on it, and all kinds of tools get developed. They don't all pan out, of course – they compete, to get better and better for the consumer!
Won't you be happy when info about hospitals, doctors, CT scanner resolution and prices is freely available, so people like Kayak can help you shop, and people like Tripit can consolidate your info?
We are just at the beginning of that era. It's what Todd Park, the Chief Technical Officer at HHS, means when he talks about Data Liberación!