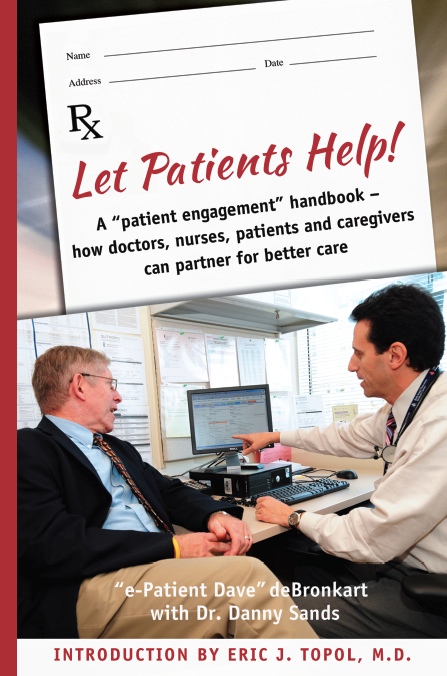 Since Let Patients Help was officially released on April 15 there's been lots of praise. The most exciting just arrived today: a hospital CEO who's making the book's ideas into something of a mission, starting now.
On her blog "Executive Rounds," today Leslee Thompson posted "Let patients help" and other things I am learning. She's CEO of Kingston General Hospital in Kingston, Ontario, where I spoke two weeks ago at their "KGH Connect" event. Please go read her post; these excerpts show how much she gets it:
One thing I do when looking at my calendar is to imagine what a patient in my hospital would think about how I am choosing to spend my time and energy. Would they approve of me sitting in my office reading reports about how to improve patient satisfaction? No. So I head on up to the wards and talk directly to patients and families.
Don't wait for a randomized clinical trial on the value of engaging patients as partners in their care. This is real and the time to get on board is now.
I have never done a book review or endorsement like this before, but I really think this should be required reading for everyone who works in health care… [But ] reading his book is only a start. Ideas are only as good as our ability to translate them into action.
That's right: action.
These people have serious credibility.
More than once I've heard people react to patient engagement by saying it's a nice idea but it doesn't drive results, saying things like "No leader who's focused on performance can afford to do this." Well, that argument stops here: this hospital has a results culture that's working. Five years ago the place was in serious trouble, to the point where it was taken over by the government. Leslee and her team have done a terrific turnaround – I don't have all the specifics at hand but among other things their hand hygiene (to avoid infections) is at 96%, compared to about 50% as an industry average.
So at the KGH Connect conference, the keynotes and sessions weren't about "How can we create change," they were about "What's next?" And this is one of Thomson's next initiatives.
How about you? What are you doing to let patients help?  Have you read the book?