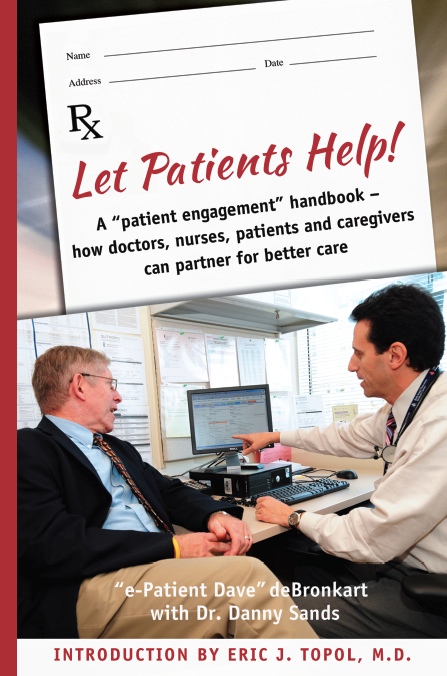 I got two wonderful surprises this week about Let Patients Help – unexpected, very favorable reviews of this little book.
The first was Tuesday on the Health Leaders web site. (They're the magazine for medical management that in 2009 featured Dr. Sands and me in their cover story "Patient of the Future," then included us in their "20 People Who Make Healthcare Better.") In What the E in e-Patient Really Means, editor Scott Mace shows that he really gets it:
I've made a career out of documenting the empowering effects of technology. In the 1980s, among other things, personal computers were a way to engage students of all ages through the interactivity of educational software. In the 1990s, the Internet equipped us to get the most current data. In the 2000s, Web services enabled us to build "digital nervous systems" that automated the publication of that data, and our ability to subscribe to updates through the power of technologies such as RSS and search technologies such as Google.
But here in the 2010s, it's ironic that the most personal of data we generate – that about our health – remains locked in healthcare's vaults for a variety of reasons. …
It's a long, perceptive essay – almost 10% as long as the book itself! The items he cites are truly the core of the message. Well done, Scott.
The second was today in Oncology Times – someone tweeted that they'd just seen it. (Why do I only learn of these things through Google Alerts and Twitter??) In the "Practice Matters" column, Lola Butcher writes Let Your Patients Help You.
Lola is informed and funny. Excerpts:
If you don't know what [e-patient] is, click here and get with the 21st century. …

It only takes about an hour to read but if that seems like too much, skip to the "tip sheets" at the end. … Look for two sections — "Ten Things Clinicians Say That Encourage Patient Engagement" and "Ten Things Clinicians Say (or do) That Discourage Patient Engagement" — written by deBronkart's primary care physician and co-author, Daniel Sands, MD.
I'll just take issue with this closing item:
deBronkart has a big smile and a humorous way of making his points but physicians who do not support patient engagement should be very afraid of him.
Afraid of moi??  I wouldn't say they should be afraid of me, but they sure will feel uncomfortable as the new reality unfolds. And that's happening with or without me – I only talk about it, to spread the word and shed light on what's possible.
Thanks to both Scott and Lola for drawing attention to this little book. Its tummy tickles every time someone says something nice.