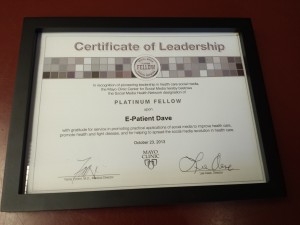 Last week I blogged about the Mayo Clinic social media fellowships. Here's a picture of the sheet.
Today Mayo posted the videos of everyone's talk on their blog. I want to especially highlight the other four people. As the blog post says, they're all real stars of social media in healthcare, each in a different way. I'll introduce each with their twitter handle and a snip from Mayo's blog post.
@MeredithGould: Meredith Gould, Ph.D. is an elder in the #hcsm community (really, she'll take that as a compliment!) who greatly assisted #MCCSM in its infancy." [MCCSM is the Mayo Clinic Center for Social Media.]
Meredith, as usual, put together an irreverent and fun one minute video.


"Wendy Sue Swanson, M.D. (a.k.a. @SeattleMamaDoc) … is a pediatrician and blogger [and mother!] who has been a champion for giving employed physicians protected time to create and curate online health resources."
"Bryan Vartabedian, M.D. (a.k.a. @Doctor_V) … s a pediatric gastroenterologist whose 33 Charts blog has established his thought leadership in physician engagement in social media conversations. He has twice served as a Chief Resident for Social Media Residency, and delivered the closing keynote for this year's #MayoRagan Social Media Summit."
@EdBennett "Ed Bennett was recognized for his service to the health care social media community in creating the Hospital Social Networking List, which has become the community-maintained Health Care Social Media List, a Social Media Health Network resource." (He didn't submit a video.)
As @Doctor_V said in his short talk, the world is changing, right now. What's possible is changing, and how to do things is changing. These people are truly leading the way.