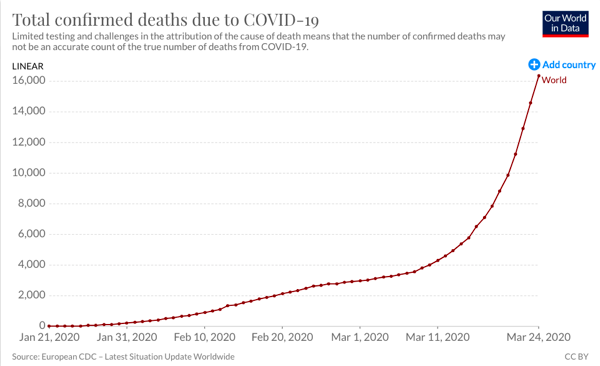 New viruses can be controlled, with fast strong actions. The two previous coronavirus threats were SARS in 2003 and MERS in 2012. They deservedly got a huge amount of attention but we (humanity) stopped them; SARS killed only 1000 in the whole world and MERS killed 862.
For the COVID-19 virus the world has already blown it: we already have over 16,000 deaths.
It disturbs me no end that so many people think this isn't happening. Even with our limited supply of test kits, the US had more than 10,000 new confirmed cases yesterday:
The US is behind but starting to catch up:
"The number of tests per million people in the US is almost 10 times lower than in Canada, and about 20 times lower than in South Korea. The US has had big problems rolling out their testing strategy, although they seem to be slowly catching up."

Our World in Data
Slowly. It will still be weeks before we have enough tests, and until then we still won't even know how many of us have the bug, nor who they are.
Update at noon ET: Today Spain announced 738 new deaths, from their population of 46.6 million. If the US had the same, it would be 5,230 deaths from the virus in one day. Let's see if we can stop this, huh?
What this means to you and yours:
Stay safe.
There are a lot more cases out there than we know.
So be careful — more careful than you think you need to be.
Plus, remember that the virus can be in someone for two weeks before they have any symptoms. Most show symptoms earlier, but others can be carriers for a long time – that's why the self-quarantine period is 14 days: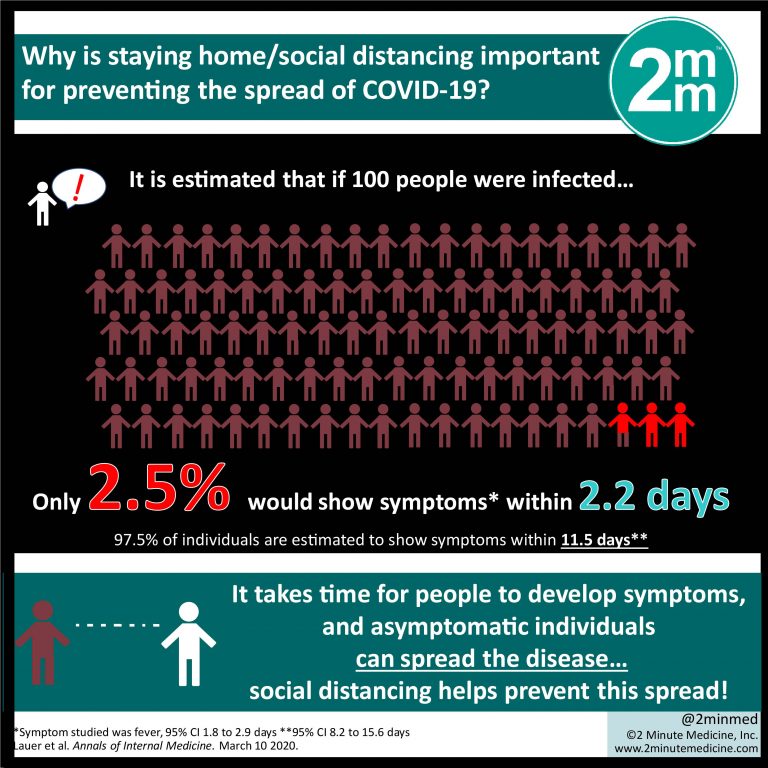 The fact that people out there don't look sick is not reliable. That's how it spread so wildly in China, Italy etc. Don't make America like them: stay home as much as you can.
Some have been convinced that this is all a hoax. They're a danger, because the virus is what it is, regardless of politics. Look at the charts. Listen to scientists.
And speaking of hoaxes –
Don't take medical advice from non-medical people.
As people worry, we're hearing all kinds of ill-advised home remedies. The malaria remedy chloroquinone may fight COVID-19 (Wired), but we don't know yet – it hasn't been tested. Yet last Friday and Saturday it was touted by the President:
It's one thing to promote wishful thinking if you're a real estate developer, and then try to wriggle out of it; in medicine it can be lethal, and you can't wriggle out of deaths. But that's what happened:
An Arizona couple tried ingesting a fish tank cleaner (!) that contains it. He's dead now, and she was lucky enough to vomit it up. Regardless of your politics, don't take medical advice from someone like the President, who threatened legal action to prevent his school and college grades from being released. That's up to him, I guess, but he shouldn't be giving medical advice.
Same for the Florida county commissioner who fell for the trash web site that said you can kill the virus by pointing a hair dryer up your nose. (Kudos to Fox News for debunking it!)
Just don't take medical advice from the internet without confirming it with someone who freaking knows what they're talking about.
---
My source for most of this is the Our World in Data site, which gets its numbers from the European CDC. Always check where people get their facts!)