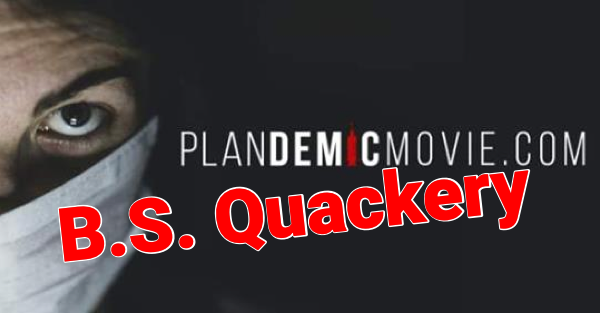 Copying this from Facebook last night …
You will soon encounter this recurring antivax / Deep State conspiracy scammer Judy Mikovits, who's now in a conspiracy movie "Plandemic," including attacking her long-ago boss Anthony Fauci. The movie ads and promo clips going around are credible-looking well-produced videos full of BS. Don't fall for it.
This insane movie says COVID-19 is a planned epidemic ("Plandemic," get it?) that can be traced back to John D Rockefeller and a Hitler-related pharma company trying to take over the world, in a conspiracy now supported by Bill Gates.
No. "Join the Rational Resistance," as HIV/AIDS activist Peter Staley (who ACTUALLY got life-saving results in his health crusade, through actual science) says:
You've all been swindled by the anti-vax movement. Just add 'Fauci' to the title, spend enough on production to make it look like a documentary, release it during the peak craziness of [people] hating on experts, and you have yourself a viral hit. … Mikovits has disease-hopped with multiple conspiracies over the years, and she finally struck gold.
Here's one takedown of the movie. Others are linked below. As credible as she sounds, this woman is a persuasive fraud whose topic keeps changing, and now it's coronavirus.
Mikovits published a paper in 2009 on a possible cause of chronic fatigue syndrome, a study that no other lab has been able to replicate. That's a giant red flag. Then she herself could not replicate it and has said she feels wronged for being criticized for being unable to get the same result again. Um, if you can't make it happen again, it ain't science.
This is flat-out quackery, and everyone outside the conspiracy theory world says so:
The Wikipedia article on her says "Two of the co-authors … reanalyzed the samples … and found that they were contaminated with XMRV plasmid DNA…" (That's the substance that the paper had claimed causes CFS.)

Those authors did a partial retraction, then the whole paper was retracted by the journal, she was fired, and she's been disease-hopping ever since, claiming conspiracies.

Here's the Snopes article (2018) on the then-viral story "Was a Scientist Jailed After Discovering a Deadly Virus Delivered Through Vaccines?" (They rated it flat-out "False," not even "Mixed."). Snopes did an incredibly deep job of digging up details on this long story and Mikovits's conspiracy claims.
Here's the Retraction Watch article – one of the most respected, objective observers of science. (They say they've had so much traffic in the past few days it's sometimes crashed their site.)
Judy Mikovits has a lot of fans but she is a fraud and a quack, as all the evidence shows. Don't fall for it – especially don't fall for madness that ties COVID-19 to a Deep State conspiracy theory going back to Hitler. Jeepers, people.
WE ARE IN A LIFE AND DEATH EMERGENCY. THIS IS NO TIME FOR CRAZY.
---
Additions
As additional commentaries come in I'll add some here.
---
Why It's Important To Push Back On 'Plandemic'—And How To Do It by Forbes health blogger Tara Haelle is a long, detailed breakdown of the fraud and disinformation perpetrated by Mikovits and Plandemic, with links to numerous other articles, some of which I've linked to here. She also underscores why it's important to fight back. Some headings:
The video looks, sounds and feels like a documentary even though it isn't
This video successfully employs "pathos" and "ethos" to persuade people (Aristotle's "ethos, pathos and logos" forms of persuasion)

Ethos is an appeal to the credibility and authority of the speaker
Pathos is an appeal to emotion. … The video uses stock images of a SWAT team arrest to make it look like she was arrested at home in a major operation—but that's unrelated stock footage.
Logos is an appeal to facts and logic. This is where the film falls flat….

So what do you do when someone shares it?

First, don't call them or the video crazy. … [This is where I don't have the patience…]

Why should I bother saying anything at all? Can't I just ignore it?

Conspiracy theories like those in this video are actively, directly harmful and dangerous. …

Does speaking up even matter? Will it make a difference? Yes.
Where can I get a good debunking of it all? [Links to five more in-depth destructions of the film, beyond the ones I have here.]
---
Chris Jacobsen, an Argonne National Fellow at Argonne National Labs, has posted a lengthy and detailed breakdown of Mikovits and this movie. Excerpt:
"Plandemic" seems to say that she alone knows the truth, and all other scientists are in on some sort of conspiracy against her and against us all. Here's why I do not believe her:
"Science is ultimately based on reproducibility, and agreement with experimental results. One can point over and over again to radical ideas which were met with skepticism at first, but eventually were accepted not because some old boys club said they were right but because the idea provided a better fit to what we observe, and these observations could be repeated by anyone. …"
---
BigThink's piece The anti-vaxx agenda of 'The Plandemic' points out "Mikovits … has become a minor celebrity on the anti-vaxx circuit. Her interview [in the film] doubles as a promotion for her latest book, which is based on an ongoing war she's waging with Dr. Anthony Fauci. Her Twitter feed is filled with anti-Fauci rhetoric alongside glee that Donald Trump is now listening to her. She has explicitly called for the entire leadership of the COVID-19 response team to be fired.
"Mikovits' story is not unlike Andrew Wakefield's, the discredited British physician who was paid to invent the vaccine-autism "conspiracy." [I had not known Wakefield was paid to fabricate all that data! Jeeze! From the BMJ: Wakefield "had been confidentially put on the payroll two years before the paper was published, eventually grossing him £435 643, plus expenses.]
---
ZDoggMD (Dr Zubin Damania) has this frustrated attack: "I am SHOOK … that Americans are so fricking stupid as to take even a second of this horrible, garbage, conspiracy nonsense seriously." (He does say it's so bad he won't spend time debunking it; I'm only including it here because millions of people know his credibility.)
---
Some docs on Facebook have taken time to walk through specific items. Leave me links to others in comments if you find some.