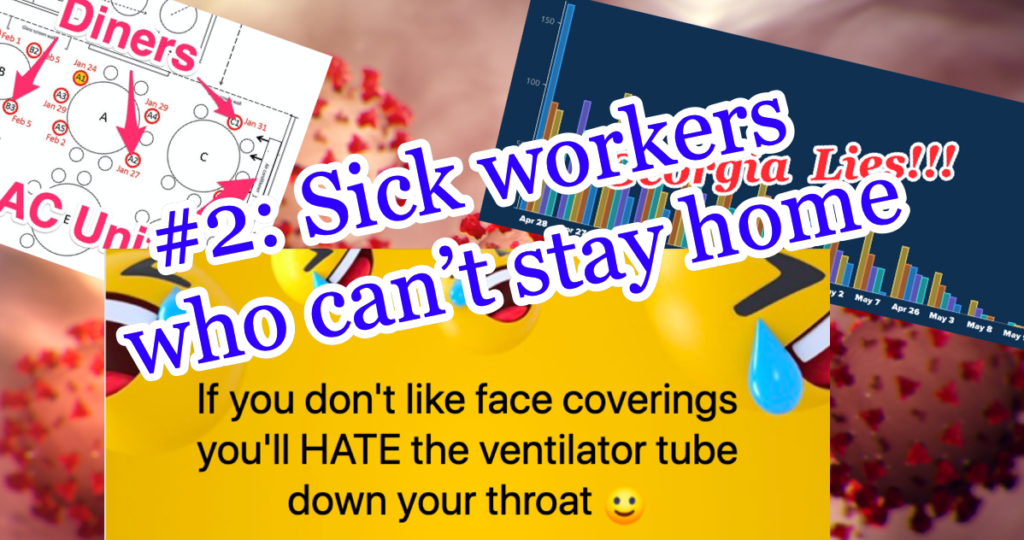 Last week I wrote about emerging from quarantine (if you want to – it's optional) into a world where we can't know with certainty what's safe and where danger is. My primary focus was "It's going to be dangerous out there because a lot of people are rejecting common sense science." But this weekend we learned of an additional risk: workers who can't afford to stay home sick.
The big news item was that two separate stylists at a Great Clips salon in Missouri worked while sick with COVID-19. Their symptoms were mild, says the news – but that's irrelevant (and it even underscores our problem) because the virus can be transmitted even with no symptoms. (I don't know why news stories don't say that every time.)
One stylist worked for eight days while sick, the other worked five. (Note carefully, 140 customers were exposed; that doesn't mean they were infected. We don't know yet. But who wants to be exposed? That's why we're having this discussion.)
This customer in that article, quite understandably, says the stylist should have stayed home:
But with so many workers in financial stress, a lot of people can't. Some are facing loss of unemployment due to reopening – but in places like Great Clips the stylists haven't even had that, because as is increasingly common, they're independent contractors, not employees.
Meanwhile, the article says Great Clips sent out a nice press release about how safety is their "top priority," but their page on COVID-19 doesn't say a peep about it nor does it show any sense of responsibility. Rather, unlike stores that offer a mask at the door, they leave that issue to you and all the other customers (who, again, may not believe the science) … they believe they're "good to go" and you should bring a mask if you want one:
Use your head. Heed the science.
We've always had this issue – people who come to work with a cold, etc., especially if their job doesn't have sick pay. But maladies like a cold aren't invisible and sometimes lethal a few weeks later. So I'll repeat from the previous post:
Avoid prolonged contact, especially with irresponsible people – but really, with everyone, because we can't know.
Wear face coverings. Remember, it's not just for you – it prevents spread, and right now you don't know whether you're a symptomless carrier. (Wearing one sets an example for others, too. Remember "availability bias"!)
Wash your damn hands when you come home or after touching stuff. It works! Stupid little soap bubbles deactivate the invisible virus!
Be prepared to walk away from dangerous places and things.
As I said in that post, this is how it's going to be, maybe for a long time. Stay safe out there.