I've started compiling all my virus posts into a /covid19 page.
Four months ago in Winter's coming. Time to talk about ventilation for coronavirus defense, I talked about ventilation (fresh air) and about HEPA filters for cleaning indoor air. Here's an update, focusing particularly on the latest bee in my bonnet: CO₂ detectors.
---
First: don't let down your guard.
This advice from that post is as true as ever:
Don't let down your guard.
Survive until we have treatments.
Sure, we have vaccines on the way. (My wife and I registered in New Hampshire this morning.) Two buts:
But #1: no vaccine is 100% effective.
The main value of a vaccine to society is to stop epidemics by producing herd immunity so it doesn't spread when infected people go around contagious and bump into innocent victims.
It's not guaranteed to protect every individual (including you). A vaccinated person can absolutely still get infected, and can die or infect others. That'd be pretty damned ironic, to have lived through this past year yet die as the end approaches.
In trials, the Pfizer/BioNTech one was 90% effective; the Moderna one was 94% effective. That's great news for the population, but some individuals still got infected: 1 person in 10 with Pfizer, 1 in 16 with Moderna. (Generally a vaccine is considered good for the population if one in FIVE people still get infected!)
Moral: Keep wearing masks even after you're vaccinated.
But #2: there are new unknowns.
It sucks but it's true: to beat this thing we have to be smarter than it, and keep defending ourselves as it evolves. News since that September post:
The B117 variant (England) is more contagious, so it spreads faster. (This is definite, not a maybe.) The protections you and your family have used so far may no longer be enough. The same level of contact may infect you now, when it didn't before.

Also, B117 may be more lethal (more deaths per infection) than we thought. We're not sure yet.

The South African variant may not respond to our current vaccines. We're not sure yet.
You've made it this far; don't let down your guard. Survive until we have treatments.
Now, on to today's topic.
---
Droplets, ventilation and filters
First, recall that this tiny tiny virus doesn't float around naked – it rides in droplets, and our goal is to avoid getting a lot those droplets into your lungs.
This graphic from the BBC is the best primer I've seen about big droplets (which fall to the ground nearby) and tiny aerosol (mist) particles (which don't), reinforcing what I said in November:
To avoid inhaling both large and misty drops, we want to blow dirty air out of the room and/or filter the air in the room. Just like this, from Southwest Airlines:

Ever notice that we don't hear about super-spreader events on planes, or even small outbreaks? Filtration plus ventilation is effective. Travel related infections don't happen on the plane – if they did, we'd see clusters in one section of a plane. Problems arise going to/from/in the airports, and when people gather joyfully at the other end.
---
Second, back on the September post you may have noticed this comment:
Central air home heating/cooling systems provide no ventilation (outside air) … air circulation is not ventilation.

Air is recirculated by a central air system. Any outside air comes by opening windows or by "infiltration" under wind pressure.
In his Facebook post, Dr. Luks (see below) said "Opening a window one inch and running a fan for 10 minutes is all it took to normalize this." I can live with that! (See also his follow-up in comments below.)
---
Third, having understood that, check out this informative 6 minute video from UC Davis about air quality in classrooms – a subject of great interest to me, since both my daughter and her husband are high school teachers. It's about schools, but the principles are of course universal.
Remember: any pollutant or bug that enters a room will stay there, and can be inhaled until it's filtered out of the air, or circulated out (blown out or pushed out by new air), or falls to the floor.
Understand? Good. So, how do we detect if your air is fresh or stale? We can't see or measure the virus. What can we do?
CO₂ levels are a good measure of air freshness. Get a CO₂ detector.
I know first-hand what it's like to sit in a room with someone who's just gone out on errands, or a relative who's less cautious but must visit. You can't help wondering (even in the back of the mind) if this invisible virus is sneaking through the air. What to do??
Last week on Facebook, friend Howard Luks MD (my wife's knee surgeon) posted that he's started using a carbon dioxide detector to monitor air freshness. CO₂ as a proxy for coronavirus protection?? So I asked college dorm friend John Veranth, a retired academic whose career was in air quality: is this legit? He says:
---
The reasoning of using CO₂ to determine air freshness is sound.
Many commercial ventilation systems like concert halls and schools have a CO₂ monitor in the return air tied into the ventilation control system. The idea is to reduce outside air makeup and save energy when the building is vacant but increase the fresh air being brought into the building as the number of people increases. This is very well-established technology.
More significantly, I have been arguing for months that CO₂ monitoring is a practical way to assess how effectively the social distancing and ventilation is diluting the exhaled breath with the associated potentially infectious aerosol particles. …
[Here he gets technical; skip this if you want] Given clean background air (no motor vehicles) CO₂ is about 400 ppm and exhaled breath is 4% (40,000 ppm). The rest is mass balance algebra.
[Here my jaw dropped.] An indoor CO₂ level of 5000 ppm (the OSHA standard for workplaces)! would mean that 11% of what you inhale has passed through someone's lungs. [me: Yikes!!] An indoor CO₂ level of 700 ppm (a non mandatory design standard) means that 0.7% of your inhalation is recycled exhalation.
Footnote: In urban areas vehicle emissions can cause locally high outdoor CO₂ [so the numbers may vary; but that doesn't change the above logic].
---
So: I haven't bought yet, but I'm exploring CO₂ detectors. I have no clue how to decide which to get, except I'm not buying one of the $699 professional models! I don't need great accuracy between, say, readings of 1000 and 1100; either of those is too high, so it should be enough to know the general range I'm in: when to open windows.
Searching any online marketplace for these is obnoxious because the search engines keep showing carbon monoxide detectors too. So on Amazon I filtered for 4 star reviews and "carbon dioxide" in quotes. Some possibilities:
Think.
I don't know about you, but for me it makes a big difference to know what we're doing as we try to defend ourselves against this invisible demon. It's reassuring to see things like that Southwest graphic that reinforce: filter the air; replace the air. And for me it's a welcome surprise to know that while I can't directly measure the virus, I can measure whether the room air is fresh enough or needs a blast.
Sure will be glad when this is over.
---
Related links from my research
WHO agrees with more than 200 medical experts that COVID-19 may spread via the air USA Today, April 2020 – lots of other good graphics
How to use ventilation and air filtration to prevent the spread of coronavirus indoors The Conversation: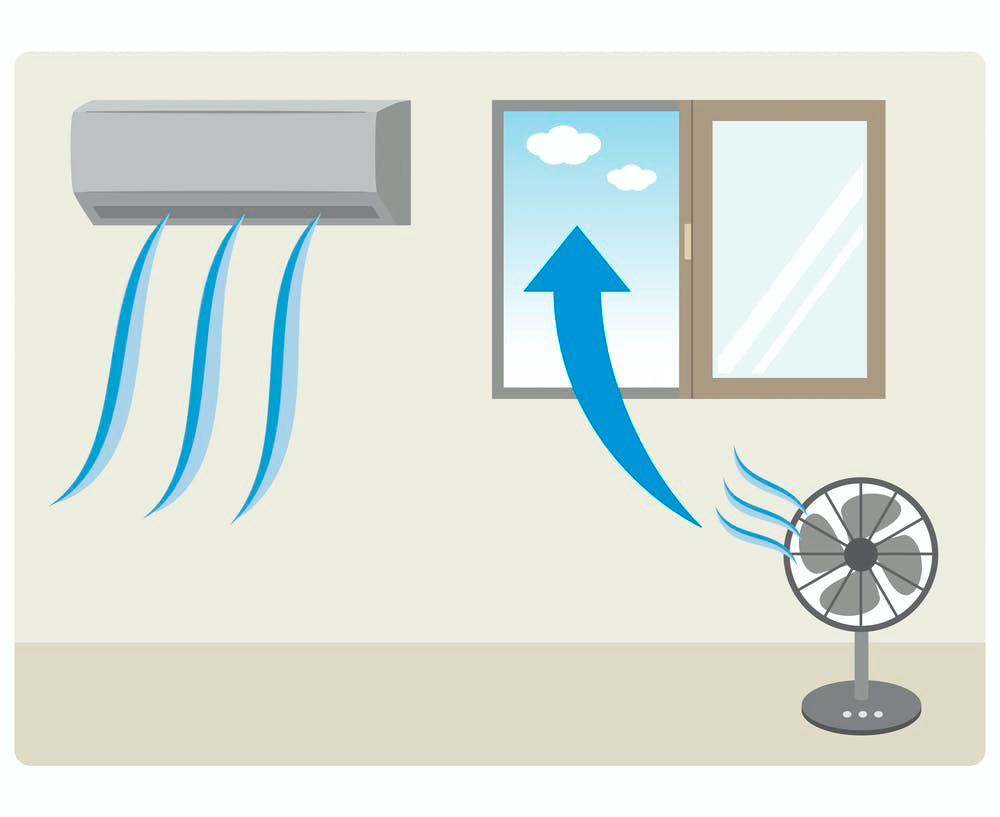 How can airborne transmission of COVID-19 indoors be minimised? ScienceDirect:
COVID-19 Safety Guidelines for Specific School Spaces Yale School of Public Health: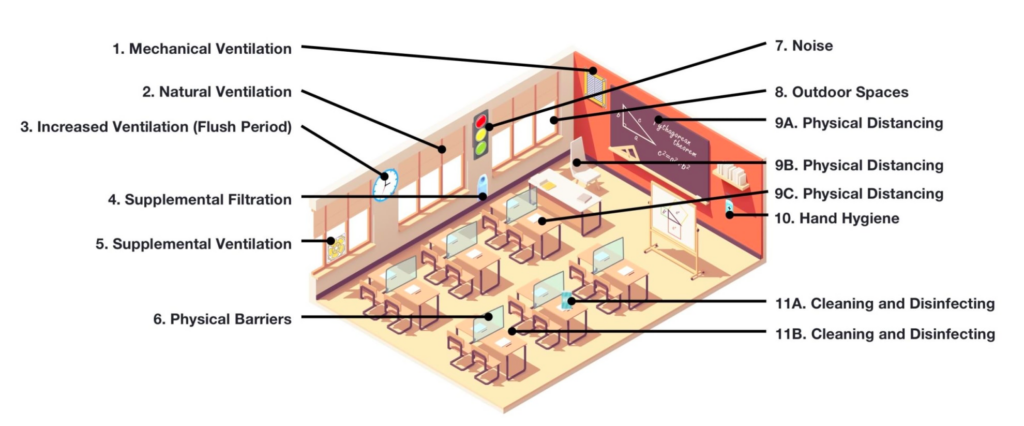 About Ventilation and COVID-19 City of Burlington, VT: