What the heck happened to my blood vessels in January? My cardio-respiratory fitness plunged in one week when I got COVID: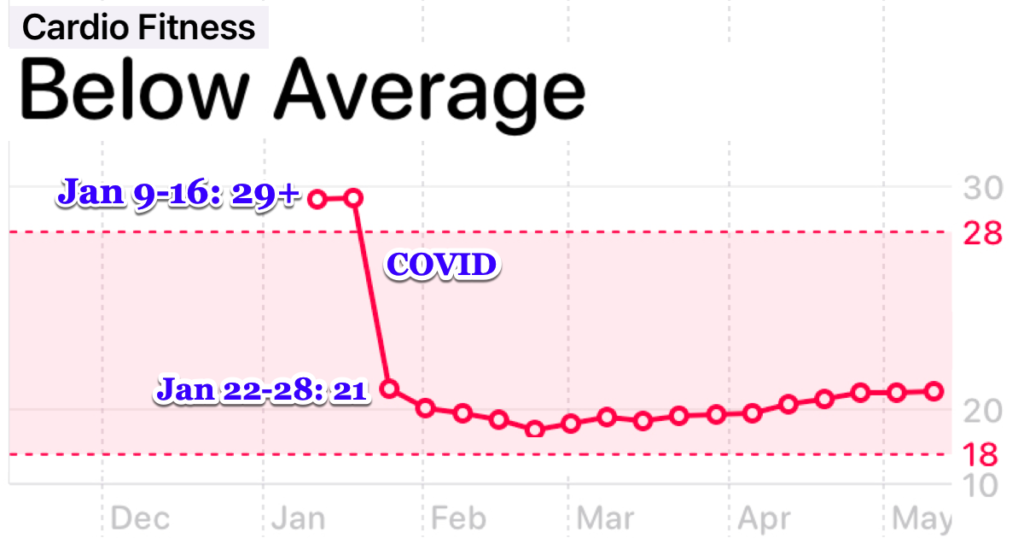 (The above is from the Apple Health app; Fitbit has a similar thing, and others may.)
While out of town I got a strong COVID infection (a bright red line on the test, indicating strong viral load). A couple of weeks later, in my Apple Watch, I stumbled onto the above – the news that my "Cardio Fitness" metric had plummeted: it dropped from 29 to 21, and it happened precisely during my COVID week. It continued dropping another two points, bottoming out at 19.1 by the end of February: a 35% plunge.
This is a problem, a real problem, because Cardio Fitness is a measure of VO2max, which is how well your body can get oxygen out of your blood vessels. If you can't get enough oxygen, you start to suffocate, and eventually you go on a ventilator.
I'm not that bad yet – I'm not suffering at all, though I breathe a little heavier during exercise. But I used to be above average, and now I'm way below. So the question is, what happened to my blood vessels?
(Some serious medical readers will say "Cardio Fitness is not a good rigorous measure!" or "Fitbit and Apple disagree on it!" or "We haven't seen peer reviewed studies about this yet!" Just hush for a minute and answer my question, because I have a real problem: What happened to my blood vessels?? They seem to be damaged.)
Yes, COVID attacks blood vessels.
Discussing this with friends, I've learned that many of us don't know that COVID is now understood as a disease of the blood vessels. Here's one article that's consumer-friendly:
… Many complications seemed to be affecting the blood vessels. … these problems can be caused by the way that Covid-19 affects the lining of the blood vessels, called the endothelium. …

There is growing evidence that long Covid could be linked to lasting damage to the endothelium …

… One study found that people with long Covid symptoms – especially people with fatigue, chest pain and cognitive symptoms – were more likely to have impaired endothelial function….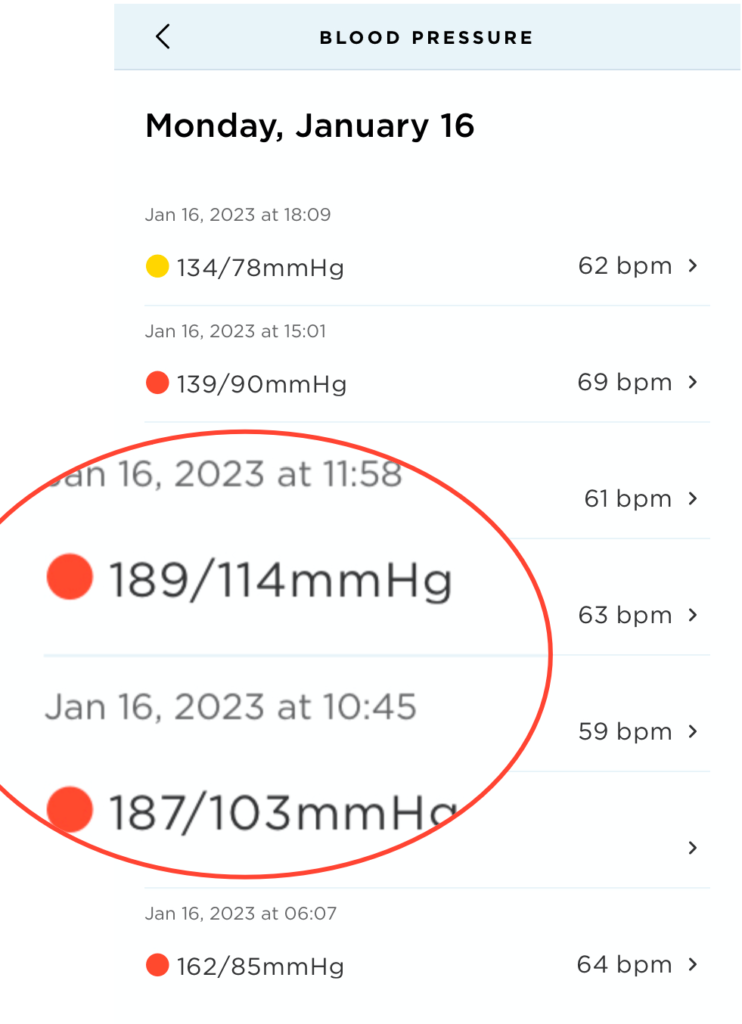 My blood pressure surged while COVID was incubating
A possible clue that I don't understand: I had a huge blood pressure increase while this infection was incubating – a blood pressure emergency (189/114), so I went to the ER, where it topped out at 202/124. An emergency BP med brought it down fast and it's never done it again.
It might be a coincidence, but I can't help but wonder: this was 4 days before I tested positive – was something happening in my blood vessels while the virus was settling in??
The remedy: HIIT. It's working.
You can increase VO2max by doing HIIT: High Intensity Interval Training. (Whatever your usual workout is, you do it at normal pace for some minutes, then speed it up significantly for a bit.) I'm active but I'm not athletic, so for me it's 3 minutes of my regular walking pace then 1 minute fast/hard walking or jogging ("high intensity intervals"). For an interval timer I like the free Intervals Pro app (Apple only); here's a list of others.
So far it's working: from the baseline of 19.1, I'm up to 20.8. I have a long way to go yet, but I am motivated.
Note: I did this all away from the doctor's office and instruments.
I can't stress enough how much the world of care and self-management is changing, empowered by device data. Patients can now know vitally important things that their care team can't see, unless we share it with them – so you should do that! Look:
I discovered the blood pressure emergency because I had a Withings BPM Connect with me – a small, nifty blood pressure cuff. It's the first one I've seen that's small enough to tuck in a backpack.
I detected the problem in Apple Health. Since first reporting it to my doctor, I now have gobs of data that don't exist in his EMR.
I'm taking action (HIIT) and tracking my progress and periodically letting him know how it's going.
This doesn't mean I'm ditching doctors! Far from it. I'm just doing what I can to understand my situation and take action to be as healthy as I can.
Because I do NOT want to end up on a ventilator when I get sick someday, if I can possibly avoid it.
So: was my BP spike the onset of COVID – and long COVID?
I don't know if this lasting symptom could be called "long COVID." But I still want to understand: would those days when COVID was incubating in me cause that sky-high blood pressure, as it did its damage on my blood vessels?? If so, how??