Update: the questions were answered (thank you all!) and the book's now available on Kindle. Buy some now!
We have many, many requests for a Kindle, eBook (Sony) or iPad version of Laugh, Sing, and Eat Like a Pig, and the time has come to git 'er done. BUT (and it's a big but), for this book there are decisions to be made, so it's time to crowdsource: what's our best approach?
I've never done this, so correct me or make suggestions.
The problem: the layout has interruptions.

←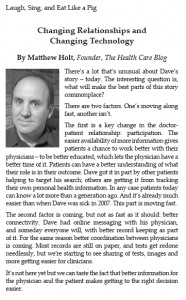 I'm told eBooks are easiest when it's a simple flow of text, like the one at left. People can zoom to find the text size that's best for them on that reader. (Kindle, iPad, whatever.)
But that kind of flow doesn't work well for complex layouts, with illustrations and sidebars.
1. Illustrations can interrupt a paragraph, like the example at right. →
How do other ebooks do this?
(To me it seems simple – the text should just flow around the illustration the same as they do for a web page. But I hear it's not that simple.)
2. Sidebars are boxes of text that interrupt the flow of the story, like this example [left]: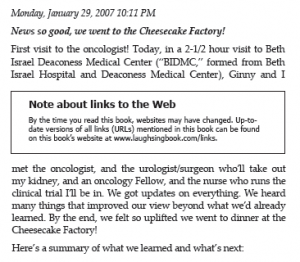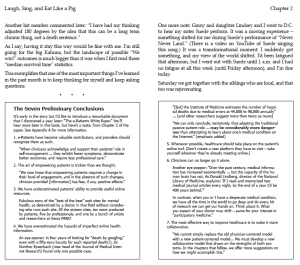 For e-readers, do people move sidebars to anywhere they want, e.g. between paragraphs? Or group them between chapters? Or put them at end of chapter, and insert a link to them in the text stream?
The trickiest part is when it's a big sidebar. In the example at right from my book, the box spans two pages. Should that be inserted at end of chapter, with a link in the stream at the right place?
Advice, folks?