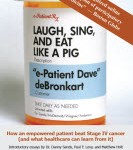 Time Video has just published a video (below) that rocked me on this Sunday morning. It's time to talk about something that used to be an important part of my life, and will be again: barbershop harmony.
Readers of my first book Laugh, Sing, and Eat Like a Pig know that before, during and after my disease, a huge part of my support came from the men in my chorus, the Nashua Granite Statesmen. At the time they were the northeast champions of the Barbershop Harmony Society, formerly known as SPEBSQSA. They're the "sing" in the book's title: shortly after learning I had cancer I asked my physician (Dr. Danny Sands) if I should stop going to rehearsals to save energy, and he said no: at times like this it's not good to start dropping life activities that you love.
Amen. And I told people that my cancer Rx included singing – "Could be worse!"
Two things about the barbershop hobby (Wikipedia) rock these men's world: the specific type of harmony (the "barbershop seventh" chord), which causes overtones to ring out; and the deep fellowship that forms between men in the society. (And between women in their barbershop societies, Sweet Adelines and Harmony Inc.)
Time's new 10 minute piece conveys both. It was filmed at last July's international competition in Philadelphia, and notes that TV shows like Glee and The Sing Off are bringing a new generation into the hobby. Enjoy, and understand. (Update 2018: Time no longer has this available in a normal online video format – click the link to play it:)
http://players.brightcove.net/293884104/default_default/index.html?videoId=902907776001
The impact on me personally:

During my illness, the Granite Statesmen provided indescribable support for me. It got to where I wasn't strong enough to be active in the chorus anymore, but several times I went to rehearsals, on crutches or in a wheelchair. It brings tears to my eyes to recall how the directors would call me up to sing a song with them, and several times they sang Rodgers & Hammerstein's "You'll Never Walk Alone." I was filled with a sense that whatever my outcome was destined to be, I was loved. And that no matter what – even at the end – I'd never be alone.
When you walk through the storm
Hold your head up high
And don't be afraid of the dark
At the end of the storm
There's a golden sky
And the sweet silver song of the lark
Walk on, through the wind
Walk on, through the rain
Though your dreams be tossed and blown
Walk on, walk on, with hope in your heart
And you'll never walk alone
You'll never walk alone
There's nothing like the sound of a strong men's chorus singing something emotional like that. And there's nothing like the sound of a barbershop seventh chord when it's sung perfectly. Here's a short example, recorded in 2002 by "Overdrive," one of my chorus's quartets back then. Were these guys good, or what??
It's not easy to do that! The harmony has to be perfect or the overtones don't ring. That's the work of being good at this hobby. (Overdrive was the New England champion quartet in 2000.)
As sometimes happens, the chorus has fallen on hard times now. After ten years as regional champions – competing at International contest as shown in the video – many seasoned members are on hiatus, and other choruses are having their turn in the competitive spotlight. But the brotherhood is the brotherhood, and the Granite Statesmen will be back. (I say so! :-))
These days my crazed speaking schedule makes it impractical for me to attend rehearsals, much less put in the hours it takes to learn the repertoire. (Barbershop is flying naked; a capella with no sheet music allowed on stage.) This video reminds me of one reason I want to adjust my business, so I spend more time at home: I want to be back on stage with my guys, making chords ring again, in the barbershop style. It takes work, but boy does it pay off.
(Here are the Granite Statesmen's CDs over the years; I sang on most of the songs on the Irving Berlin CD. I wasn't there for the Christmas CD, "Just Add Snow," but it's said by many people to be their favorite holiday CD of all time.)