I've added a few updates since the original post, as I thought of more details.
Today, July 23, 2011, is the fourth anniversary of my last dose of HDIL-2 (high dosage interleukin-2), the treatment that rapidly reversed the course of the cancer that was killing me. I haven't had a drop of treatment – and thus not a single side effect – since then. Nobody can predict the future, but this I know: I am well.
I believe in acknowledging those who make a difference, so here we go:
Thank you, Dr. David McDermott, my oncologist. When my ACOR.org kidney cancer peers listed the best docs to seek, you were on that list. And I was so glad I was already being steered toward you. Thank you for your excellence, for the work you did to get there (all the hours and years of study), for your dedication in seeking more and better treatments for other patients like me. I know most kidney cancer patients don't have as good an outcome as I did, and I imagine it's hard to work with so many who die.
Thank you too, for your gentle nature and willingness to answer my questions by email. I often tell people how I misunderstood "craniocaudal," scaring myself with a misunderstanding of the numbers I read, and when I apologized, you – tops in your field – replied, "I am happy to field your questions." Thank you for being a modern, participatory, super-smart doctor.

Thank you, Dr. Andrew Wagner, my urologist and surgeon, who removed my kidney (and yeah, I know, adrenal gland, but what the heck is that, anyway) in a 5½ hour laparoscopic operation. So often I hear what arrogant "cowboys" many surgeons are, but not you: soft-spoken and brilliant. I'm so glad you arrived at Beth Israel Deaconess less than a year before I needed you.
A man of fast hands, too: you'll recall that when I awoke from the surgery and looked around groggily, I saw you and my family, and said, "Mommy, he hurt me" and reached for my cane, to whack you. Thanks for being quick and getting it before I did.
And those hands – thanks for being so good you could do the surgery without a robot. Most people I talk to have heard so much robot marketing that they don't know your skills even exist. (I know you use the machine for some surgery.)
I'm told laparoscopic was important, in my case, because I recovered months sooner than if I'd had the conventional "open" surgery. I know a guy whose surgeon can't do laparoscopic and didn't even tell him that option exists, so he unnecessarily endured the harsher method. As you know, I strongly believe patients should be informed of all their options, even options that require going somewhere else.
Thank you also for being such a perfectionist, so compelled to get it really right, that you corrected me – it wasn't 5½ hours. (To my family I was gone 5½ hours, but you wrote: "Being the stickler that I am I went back to see just how long the procedure was on our system:  you were in the operating room for a total of 5 hours but the actual surgery time was 4 hours 15 minutes.")
Thank you, Dr. Megan Anderson, my orthopedist, who monitored my femur with that big metastasis (ow), tried to keep it from breaking, and, when it did, scooped out all the cancer cells (how is that possible???) and glued and screwed it all together. I know it wasn't easy, and we had to go back in for a second try, but today I'm a happy hoppin' 61 year old whose legs work better than many I know who never had cancer.
It was fun riding with you in the Reason To Ride bike fundraiser – I show that picture of us in most of my speeches.
It's no surprise to me that your peers voted you "Best in Boston" in that magazine last year – or was it the year before?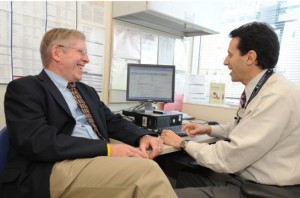 Thank you, Dr. Danny Sands, my legendary primary care physician, for so many reasons:
co-author of the world's first guidelines for doctor-patient email (1997)
co-creator of the PatientSite patient portal (1999) which I used so often
long-time friend of Doc Tom Ferguson (founder of the e-patient movement)
my PCP starting in 2003, then again when I returned to Boston in 2006 – just in time for the adventure
for practicing shared decision making with me, when we discussed whether to do a PSA test. ("There's no clear recommendation," you said, and explained the options and trade-offs so I could choose.)
for being the doctor in "My doctor prescribed ACOR," referring me to that expert patient community
co-founder of the Society for Participatory Medicine, and my co-chair for its first two years, and its President to this day
the first to invite me to speak publicly about my case – with you in October 2008 and February 2009, then on my own, and again at Grand Rounds (Beth Israel 2009) and the IHI Forum in 2010 and Copenhagen 2011. It is an honor to share the stage with you. I steal many of your slides, and many of your thoughts and words.
I say you are a great leader, and a primary source of the new world that's beginning to emerge.
Thank you, Virginia Seery NP, head of the IL-2 program at Beth Israel Deaconess. I remember, day after day when I was in treatment, seeing you show up at the foot of my bed. Heaven knows how many patients were on your mind, but when you and your colleagues showed up with me, you were present. My clear experience was that in that moment, there was no other patient in the world but me. This is an aspect of medicine that we hear too little about, but to me it meant the world: a desperately sick person benefits from the sense that a genius knows, cares, and is on the case. Bless you and all the work you did to achieve all those skills.
I know you and the IL-2 team saved my life more than once. The published data most doctors see tells them 4% of all IL-2 patients die from the side effects, and this sometimes keeps them from suggesting IL-2. They don't know how good your team is.  You stopped my doses more than once, e.g. when my BP dropped to 50/30. You managed my case successfully, and I know you've lost hardly any patients in the past decade. This is awesome professional competence. Thank you, and please share this with your team.
______
Thank you, Kendra Bradley, Gretchen Chambers McGrath and Meeyoung Lee, the research coordinators for the clinical trial I was in. Every one of you has been a rock of stability, an anchor … the metaphors fail me. But your ability to communicate with me, answer my questions, help me understand what I could, and have confidence when I couldn't, was a cornerstone of my treatment experience.
______
Kendra especially, you were the one who knew and handled me when I was in the crucible. Your wisdom as a caregiver was so deeply appreciated. I don't know how much of that is taught in school, but the skills you acquired afterward served me well. I remember when you said you detected early on that I had an appetite for a lot of information, though a lot of patients don't. You said you picked this up when you worked in pediatric oncology, where a lot of patients can't directly say what they prefer. I want to say "Mwah," but I don't know if that's appropriate.
You were also the one who first pointed out that parents are more willing to speak up and advocate for their sick kids than for themselves. This led to my "mama lion" hypothesis – that as we work to change the culture of healthcare, perhaps our greatest access point will be in pediatrics, where adults are more empowered and few people would deny them the right to engage in care.
Speaking of lions, thanks to the nurses – of all levels – who deliver the lion's share of care on the front lines. I can't remember all your names but I sure remember the care, the competence, how you listened to us. In my unit at Beth Israel Deaconess I felt extremely well cared for and cared about.
(And thanks to the shift supervisor who listened when I said I couldn't stand one particular nurse, who seemed to want me to hold still like a practice dummy, and almost wanted to swat me. That was an exception – we just didn't mesh – so I made an empowered request and never saw that nurse again. Thank you!)
______
Thanks to the people who developed IL-2 and have done the many years of research into its use. As I understand, it was developed at Chiron Corporation, was sold to Novartis, and is now at Prometheus Labs. Who are those scientists?? Whoever you are, you who pioneered that research in the 1990s and you who have developed new protocols, you too contributed to saving my life.
I myself was great at science in high school but sorta flopped at it in college – perhaps because, um, I kinda didn't do the course work, which you did do. So you learned and got good at it and yes, that let you save lives. My mom, for one, is grateful.
______
And others:
All the above directly contributed to my success. Here are others worth noting.
Thanks to the members of my patient community, KIDNEY-ONC, at ACOR.org, led today by Robin Martinez. They got me oriented so fast, and gave me such sharp advice so quick, that I went from panic to clarity in a matter of days. (Thanks especially to ACOR's founder Gilles Frydman, but he always complains if I shine a light on him personally, so he's last.:–))
My patient communities page is the early beginning of an effort to create a global list of such groups, including instructions on finding and joining an ACOR group.
______
Thanks to all of Beth Israel Deaconess Medical Center, particularly its then-CEO Paul Levy, for being so danged patient-centered. I can't say this directly contributed to saving me, but it all adds up, and you were (almost always) a shining light of thinking from the patient's point of view.
(One suggestion, though: once a month, every executive responsible for patient experience should spend a night in whatever chair or bed you're currently offering to spouses who want to stay overnight. That was the only truly cruel part of our experience, and the managers responsible should get to experience it regularly!)
And Paul, thanks for delivering my dinner one night, while job-shadowing the cafeteria staff. That was sweet. (And reminding me what channel the Sox were on.)
______
Patients, it's your turn to help others like us:
This isn't the first time I've expressed gratitude to Dr. McDermott's team, in particular. I've asked how I can help, and it's telling that he didn't ask for publicity for his team – he said, approximately:
"The biggest thing holding back our progress in developing new treatments is that we need more patients who are willing to participate in clinical trials, as you were.

"We have many potential treatments to explore, but without patients in trials, nothing new is developed."
Patients, I know everyone's different. But if you're so inclined, you can help other patients by sticking your neck out and volunteering to participate in a clinical trial. Ask your care team, or ask your patient community.
______