Today would have been my dad's 90th birthday: he was born March 27, 1922. Here's a picture in his later years.
Dad died in 2005. He lived a full life, for better or worse, from aircraft mechanic in World War II to microfilm salesman to vice president of a division at 3M. He loved his hobbies, puttering in garage or basement – when I was a kid he had classic and antique cars, but dagnabbit he got rid of them before I got my license. (I wonder why?) Then it was boats – he'd learned to sail on Long Island Sound, and taught us on the Chesapeake near Mount Vernon, then on Minnesota lakes, a houseboat on the St. Croix, and then sailing and rowing in Maryland, off the Cheseapeake near Annapolis.
I miss him.
In my college years, and after, I was the ever-rebellious anti-establishment type; he was the ever-positive Dale Carnegie "positive thinking" salesman. Sometimes when I railed against something, he'd ask: "What do you want? What change are you looking for?" (He strongly favored non-noisy / non-polluting forms of boating, but instead of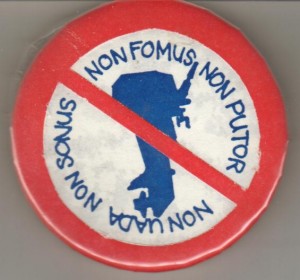 attacking, he promoted his positive alternative: the "Société Nauticale de Propulsion Humaine," with its faux French title and fake Latin motto on the button at left.)
I'd roll my adolescent eyes, but today his words live in the back of my mind, and sometimes come out of my mouth.
In his final years he was hard to care for. I watched from afar (New England then Minnesota) while my mom and siblings refurbed the house and did all the things one does for an elder in decline. Eventually he moved into a local facility, where I got my first exposure to how erratic that care can be: his oxygen cannula unattended, blowing onto his cheek, or the hose unplugged, or other kinds of sloppiness.
Two years ago, while writing my book and recalling my own near-death, I thought back to the last time I saw him, shortly before he passed. On my old blog I wrote about it, and a song that ripped my heart out in a constructive, cathartic way. I wrote:
…that brought me back to my own father's death in 2005, when I lived a thousand miles away. Traveling to see him wasn't easy. The last time I left him in the care facility I said I'd be back soon and kissed his forehead. His last words to me were "That will be nice." All signs were that the end was near, and it was.

That night I attended the annual concert of my sister Amy's excellent Sweet Adelines chorus The Pride of Baltimore. The headline act was Wheelhouse, a champion quartet whose signature song is "When I Leave the World Behind." Irving Berlin's beautiful lyrics flooded me; I sat there with tears running down my face, thinking of my dad's departure from this world.
A YouTube of Wheelhouse, and the lyrics, are on that post.
And here's a DVD the family made for his memorial service, from scrapbooks and photo albums. The music is "Kairos," composed and performed by my singer sister Suede.
Happy 90th, Dad
Happy birthday, Dad. Thank you for the sailing, for the living you earned for us, and for the fatherhood, including the parts I didn't like.
I miss you.