Permit me to indulge in excessive joy. On Monday my daughter Lindsey ran and finished the Boston Marathon. Woot.
It was, as they say in Boston, "wicked hot." 87 degrees, which is about 25 degrees hotter than marathoners like it. So hot that the Marathon allowed people to defer their cherished credentials, to run in 2013 instead; 4,000 took the offer.  So hot that 2,000 people started but didn't finish. Including both of last year's winners, men's and women's: they started and dropped out before the famous Heartbreak Hill.
She researched. She blogged about the course, her research, and the data on the last hot marathon, 2004. She prepared. And she nailed it. Her first Boston Marathon (only her second marathon ever), and she finished smack in the middle of the pack.
"They say you're supposed to do it as just a 20 mile run, followed by a 10k race" (10k= the last 6.2 miles), she says. Yeah, except the "10k race" part (at mile 20) starts at Heartbreak Hill. See that big bump on the right side of this elevation map? Yeah, that's an 88′ climb (27m), like running up a nine story building… after your 20 mile run: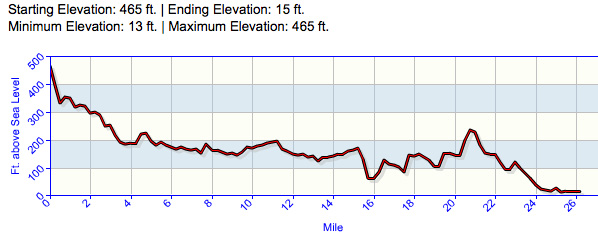 In the Boston Globe an experienced runner said usually when you get to the top of Heartbreak Hill you're greeted with a cool breeze to carry you to the finish, but this day "The breeze was hot, the water was hot, everything was hot."
Mind you, it wasn't a joy; that night she said "I'm never running that course again." But later I ran into an experienced marathoner at an ice cream place, who apologized for how bad it was that day. Lindsey said that made her feel better :-), and after a good night's sleep when she read how bad the day was, she realized it was an accomplishment.
Yeah it is.
At a time like this a daddy's mind goes back to those years of cross country at Salem High, waiting by the course for her to emerge from the woods, yelling "Go Lindsey! You can do it!"
Yeah, you can. You rock.