This is the second in a new series on patient participation in guiding medical research.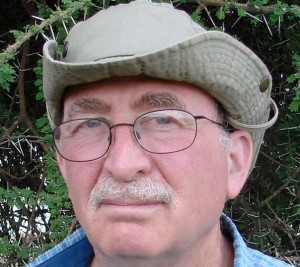 Perry Cohen is a new friend and, I'm thrilled to announce, a new collaborator.
I learned about Perry during my MIT college reunion this June – my classmate Becky Donnellan heard about my work and said "You should meet Perry," whom she'd met somewhere along the line. On my next trip to DC I met up with him, and indeed we hit it off.
But I'm not thrilled with the reason we need to collaborate: Perry has Parkinson's Disease, and, as he puts it, "I'm losing my voice."
That's no small issue, because for sixteen years Perry has been a powerful and effective voice for the Parkinson's patient perspective at the National Institutes of Health and the Institute of Medicine. In the progression of his disease, at present we can speak on the phone just fine, but the adrenaline of giving a speech – which he's good at – is too much. In February he froze up, on stage, for two minutes, and had to be helped off.
So he's asked me to help with his public speaking.
In this post I'll introduce Perry, describe how we'll be collaborating, and close with a specific example that shows how strongly he and I are aligned: an article he co-authored five years ago that blew my mind last week. (I mentioned it in Saturday's post that began this series.)
Parallels and intersections
Attended MIT in the same era – in organization studies, no less. (Never crossed paths.)
We were both teaching assistants for Prof. Tom Allen's course in Managerial Psychology – Perry in 1971, me in 1972.
Notable quotes:

Perry: "The missing ingredient in development of therapies is the voice of the patient"
Dave: often quotes Warner Slack – "The most under-utilized resource … the patient"

The Parkinson Pipeline Project he founded arose from friendships on Neurotalk, one of the patient communities noted by "Doc Tom" Ferguson in his e-Patient White Paper, which I cite so often
Both of us wound up on the PCORI patient engagement working group, whose meeting October 27-28 we'll both attend.
We think alike: he says, "You have a point of view that's correct."
About PCORI (pronounced "p'korey")
PCORI is a new agency, the latest development in decades of work designed to help patients and families get the best possible care.
PCORI is the Patient Centered Outcomes Research Institute, a new agency created by the Patient Protection and Affordable Care Act (Obamacare).
PCORI is a big step forward in the field called CER – Comparative Effectiveness Research – which for years has studied which treatments are most effective.
CER is the core of evidence-based medicine (EBM)
EBM is the remedy for one of medicine's stickiest problems: unwarranted practice variation – doctors who in the past have viewed medicine as their personal craft, not as a science where the best evidence should always be used.

That may be hard to believe, but it's true: several docs have expressed to me that they want autonomy, freedom to practice how they want – "I don't want to have to follow some cookbook" – the word is said with disgust.
EBM is not used universally, but it has indeed caused things to move in the right direction – and it's built entirely on effectiveness research.
You can see that CER is the fuel for scientific medicine, to help patients and families get the best care available. And the big difference in PCORI is that for the first time, the idea is to let patients be heard on what outcomes are important: Patient Centered Outcomes.

Perry and I are part of PCORI's Patient Engagement Working Group. (It was at a PCORI meeting in February that Perry froze up.) This group itself is an achievement, because when 2012 began it didn't exist, but Perry challenged them to practice what the name preaches, and engage actual patients in the deliberations. Now, under famed patient advocate Sue Sheridan (Acting Director for Patient Engagement), the group exists.
And that's important because, as you're about to see, researchers don't always have the same values as sick people.
Perry's article
Last week I read a terrific paper on which Perry was the lead author, "Ethical Issues in Clinical Neuroscience Research: A Patient's Perspective." The text outlines the clash of values:
Scientists are driven by their desire to advance knowledge and apply it to the development of improved medical treatments and devices. They prize the scientific method, which relies on objective documentation of behavior and outcomes, statistical analysis, hypothesis testing, and replication of results.
That's good – science is good, the scientific method is good! But if you've got a progressive disease like Parkinson's, time can outweigh rigor – as Perry's status shows.
So, who gets to say what the priority is? The AIDS movement answered loud and clear: researchers were saying "We haven't proven anything with enough certainty yet to let you have the drugs," but the patient community said "We're dying, damn it! Give us something now!"
That's just one example of how scientists' and patients' values can differ. Another is on how far we should go, to try to eliminate uncertainty.
Sham surgery: "Open some skulls and do nothing – for science"
The Parkinson's community has problems that draw stark contrasts on whose wants are important:
Conflicting core values often pose ethical dilemmas. … The high value placed on clinical improvement by doctors and patients can be at odds with the scientific method, which looks for … [confirmed] statistical differences between treatment and control groups.
[Scientists] strive to avoid statistical error and bias, which may result from patients' or providers' expectations. [The placebo effect]
Earlier research has shown that brain surgery itself has a very strong placebo effect. To try to account for this, some studies do sham surgery on some patients: they get holes drilled in their skulls but don't get the treatment. Talk about a clash of values! To the scientist, this is how you do good science. But the patient community thinks "Are you kidding????"
As the paper says, "Sham surgery is not a sugar pill."
Indeed: sugar pills are inert and harmless; skull surgery isn't. The article continues:
[Sham surgery] patients incur not only the risks of having a hole drilled in their heads, but also the significant risks associated with undergoing anesthesia, as well as the emotional trauma of preparing oneself for experimental brain surgery with no expectation that these interventions will ease their symptoms.
Afterthought Sept. 7:
An irony is that the sham surgery is done in an attempt to eliminate uncertainty about whether a treatment works, when, as I said in the previous post, for all practical purposes there is no certainty.
What is the added value to science of that reduction in uncertainty? Can that reduction be measured?
A second irony is that it's done by creating uncertainty in the patient's mind – the uncertainty of not knowing whether they're getting a treatment or a placebo.
An even greater irony is that to a person whose brain is declining, any benefit is valuable – even a placebo effect! Anything that delays the decline has genuine value.
Don't believe it? Ask one of the patients. That's the point. Some "placebo effects" from Parkinson's experiments have lasted 5-10 years.
And this patient-centered value is at cross purposes with what scientists value. An ethical conflict.
Which brings us to a central question PCORI will face:            [end of 9/7 edit]
Who gets to say what's patient-centered?
Perry and I think alike on this: the patient does. Making this case will be the focus of our collaboration.
_
Footnote: The co-authors on this important paper deserve mention: