Note addition, Nov. 28, at bottom.
A (ahem) friendly suggestion: let's be explicit in what we ask for. Here's a recent pet peeve :-) …
"Visible" is not "transparent."
I keep hearing complaints about irresponsible patients as a leading cause of our cost problems. But, hospitals, insurance, and policy people: Don't complain about our spending if you can't tell us what it'll cost before we make decisions. If you don't know, you're out of control – don't blame patients for that.:-)
See, "visible" describes the thing we want to see. (Prices.) "Transparent" is an abstraction. It diverts attention from the prices, by focusing on the barrier.
If we can't see prices, how can we control them?
If you go into a restaurant and the menu has no prices, how are you supposed to stick to a budget? Yet in last year's Health Leaders reader survey, patient irresponsibility was listed in the top five causes of rising costs – and nowhere did they note that inability to see prices might be a factor.
Here's the impact on ordinary citizens: If I mention "transparency" to people in my community, most have no idea what I mean. But when I say "We need to see what things cost – and nobody can tell us," everybody does see what a problem that is.
Visible prices, please. Before we make our purchase decisions.
Added Nov. 28:
A few weeks later I was in a Mexican restaurant, and the menu illustrated this point, and posted on Facebook: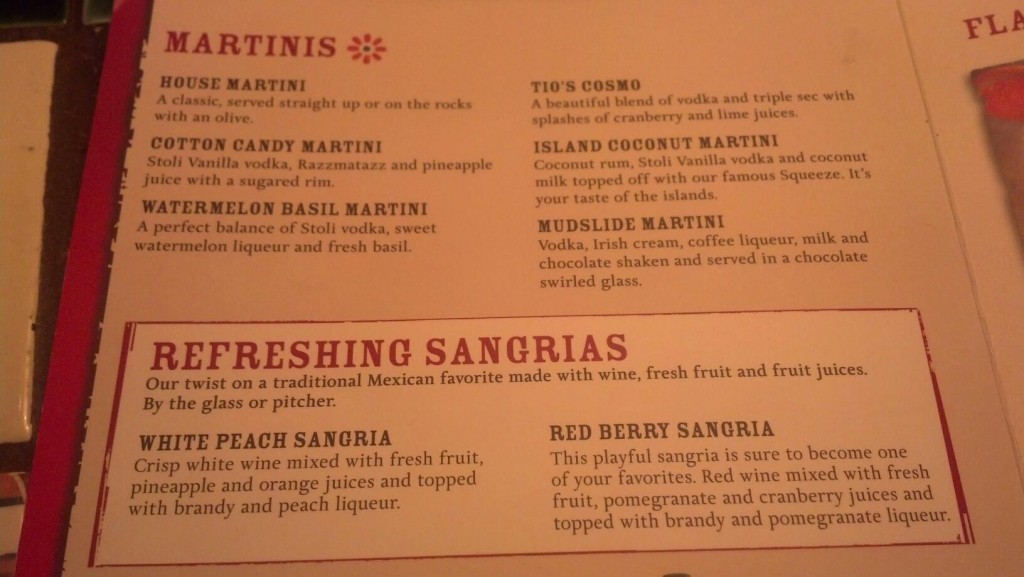 "Health policy lesson: this drinks menu has no prices – do you ask for 'price transparency'? No, you ask for the prices! (Unless you're a sucker.) Sometimes in healthcare we leave our common sense behind; easy to fix. Just realize it."