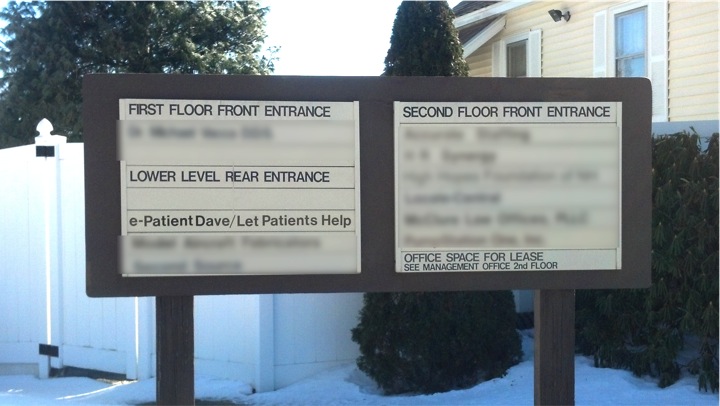 I've reached a milestone: after three years, my startup has reached breakeven. For the first time, I'm not living hand-to-mouth.
So I'm now able to have my first little office outside the home. I can go to work, and I can come home from work. See sign at right: my name, and my motto, "Let Patients Help." I've hung out my shingle.
Thank you, clients and sponsors.
Words can barely express my gratitude to the people who helped me get started, through their early support when nobody had ever heard of me, and as far as I know nobody ever paid to hear a patient speak at a conference.
Who was first to offer me pay for a speech? Kent Bottles MD (@KentBottles), who at the time was president of ICSI, the Institute for Clinical Systems Improvement in the Twin Cities. And before that, the first to invite a keynote was Gunter Eysenbach MD (@Eysenbach) of Medicine 2.0. It was unpaid, but it was a genuine "patient gives keynote" invitation – the opening keynote of his 2009 event. Imagine – a patient opening an academic medical conference.
And it's no coincidence that those two docs were on Twitter back then, four years ago. Vision is vision, and action is action.
If I'd known then what it would take…
Three years of hand-to-mouth… in the first year I blogged about the business of patient engagement. (If you haven't read that, please do – it explains my method and what it took to do this.)
If I'd known then what I was getting into … well, I probably would have done it anyway: I felt the calling.
But this has not been easy. Having my head above water is just plain strange. But wonderful. And that's why I'm so, so, so grateful to those who saw the future and helped me get started, and those who've supported me as my prices have risen. I work hard to deliver value – not in my eyes, but in my customers' – and it's really gratifying to see that the industry sees value in the patient perspective.