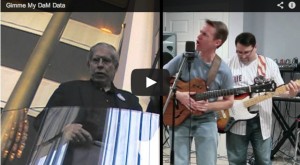 I just learned that "The Wall Street," as cool people call it, reported last Tuesday on a session at the uber-hip South By Southwest conference (SxSW), saying this:
SXSW Reporter's Notebook:
Who Rules the Data?
The full text requires a subscription, but here's the relevant snip:
… Privacy is only one data concern. John Wilbanks, chief commons officer at research nonprofit Sage Bionetworks, began a panel on "health 2.0" by playing a song called "Gimme My Damn Data."

While acknowledging the great possibilities of data for improving science and individual health, Mr. Wilbanks lamented the currently "broken" system where people can't easily use data about themselves. "It is very hard to open-source your data," he said. "It is owned by whoever has it—and it might be considered a corporate secret or private."
The power of art in a cultural revolution:

Last May in my Joseph H. Kanter Family Foundation talk at the National Press Club, I said "You know a movement's becoming a revolution when the artists and musicians show up." I cited Regina Holliday's Walking Gallery of medical story paintings, and I cited this song. Indeed, now look: among the thousands of ideas propagated at SxSW, this is one that got ink in the Wall Street.
Thanks again to the amazing Ross Martin for writing the song and producing the video, and band mates Chris Brancato and Harry Greenspun with son Ben.
(As described below, it was originally "my damn data," but Ross wrote "DaM": Data about Me. Nicer, and more to the point!)
Now that it's spreading, I gotta set up a Google Alert for this. I love progress.
(For those who don't know the whole story of this rallying cry, here it is … it started with discovery of big errors in my record. Are there errors in yours? Your mother's? Your kid's? Will your doctors let you see? Find out! As the song says: "It's all about me so it's mine.")