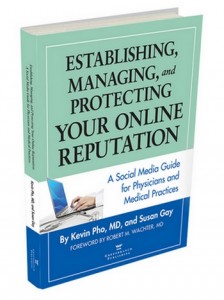 My Nashua, New Hampshire neighbor @KevinMD (Twitter, blog) is known as "social media's leading physician voice," and I believe it. His blog is terrific, both technically and in breadth, depth, and consistency. I don't know how he does it, on top of running a vibrant family practice in a busy area.
I'm late in discussing it, but he recently published a new book with many invited contributions, including one from me. It's Establishing, Managing, and Protecting Your Online Reputation, and it's smart.
This is a tricky subject, because online reputation is something consumer/patients are increasingly consulting as they start acting like consumers (trying to be informed), and reputation is a form of data – and as with all data, it's really hard to know sometimes if the data is high quality. That was precisely my point in my submission, which I'm posting here, with permission (which of course Kevin granted, since I wrote the stuff! :-))
Space didn't permit all these words to make it into the book, but here's the full text of what I had to say.
__________
Reputation – online or off – means a lot.
But whose opinion is it?
I never had a "light bulb moment" about online reputations per se; to me reputation is reputation, and the only useful question is whose opinion I'm hearing. Besides, all my life I assumed all doctors and nurses were at the top of their craft. So except for the rare high-profile scandal, who needs reputation?
But as life went on, I heard of differences – big differences – in quality of care and practice variation. Where did I hear it? From people in the profession – family and friends who worked at hospitals. So in the back of my mind, reputation arose as a factor.
Then I found out I was dying: Stage IV renal cell carcinoma, with metastases everywhere. Boy did that get my attention; I wanted the latest, the best. I was already at a big academic medical center; even so, in addition to sending me to top specialists, my primary referred me to the internet: a high quality online patient community. There I learned quickly about treatment options and the best doctors for my condition. (Not all communities are sharp, but this one is; my oncologist has since confirmed it.)
The primary consideration for me, in any reputation, online or off, is whose opinion I'm hearing and how they formed it. Their thought process, mental discipline, and personal values are fundamental; without that I have no idea if their rating would match mine. On a restaurant site such as Yelp, raters know what they were eating. But in medicine how can you tell if a "hater rater" has the perspective of airheads like Jenny McCarthy and Suzanne Somers?
For that reason, I have no use for mere thumbs up/down ratings: I want Amazon-style written reviews, whose thinking and priorities I can assess.
I also yearn for separate ratings for professional competence vs consumer friendliness, such as office hours, appointment lead time, time spent in the waiting room, clear billing, online records, etc.
It's not just about patients getting what they want: the changes I foresee will make it easier for great providers to be recognized. Right now if a hospital has an amazing transformation in medical errors, quality of care, or customer service it won't show up in HCAHPS for two years! That's a huge inhibitor to the normal market forces that reward good performers.
We've solved this before. In eBay's early days people said "Who's going to buy online?? You have no idea who you're buying from." But eBay added reputation, and today a mediocre reputation is death on that site.
And today, Amazon even rates the raters. (Others can rate individual reviews as helpful, and some people become "top 100" reviewers.)
For online medical reputations it's still early days. The tools are primitive and the culture is unevolved. I expect it will mature, just as Amazon's did, and as eBay's has; I can see the future that will "out" the slackers and reward the great. Until then, I won't put much stock in what I read, unless I'm sure who said it and what they were thinking.
____________
What do you think? Have you had experiences, good or bad, with ratings of doctors, or ratings of anything else, for that matter?