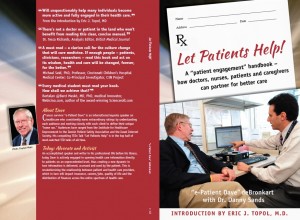 Big news continues for Let Patients Help! A Patient Engagement Handbook!
1. A special promotion is coming this week, celebrating two big global-level conferences:
The International Forum on Quality & Safety in London, produced by the British Medical Journal and the Institute for Healthcare Improvement. (I'm speaking there Friday, in the main auditorium; the last I heard, 1300 people have registered for this talk!)
TEDMED, in Washington DC. I'm not attending (because of London), but one of their Great Challenges is "The Role of the Patient," which is what this book is all about.
Stay tuned for details of the promotion, to be announced Wednesday at latest.
2. Two new endorsements have come in:
"There's not a doctor or patient in the land who won't benefit
from reading this clear, concise manual
which sets out how each can contribute and collaborate
to get better and safer healthcare."
Dr. Tessa Richards
Analysis Editor, British Medical Journal
"A must read –
a clarion call for the culture change that will cure medicine.
If enough people – patients, clinicians, researchers –
read this book and act on its wisdom,
health and care will be changed, forever, for the better."
Michael Seid, PhD
Professor, Cincinnati Children's Hospital Medical Center
Co-Principal Investigator, C3N Project
3. The finished version of the book is now in production, uploaded for print. It should be available on Amazon this week, hopefully Wednesday, April 17.
Kindle, ePub and print editions will all be available.
As promised, buyers of earlier pre-release editions will get a coupon for half off of this one.
Stay tuned!