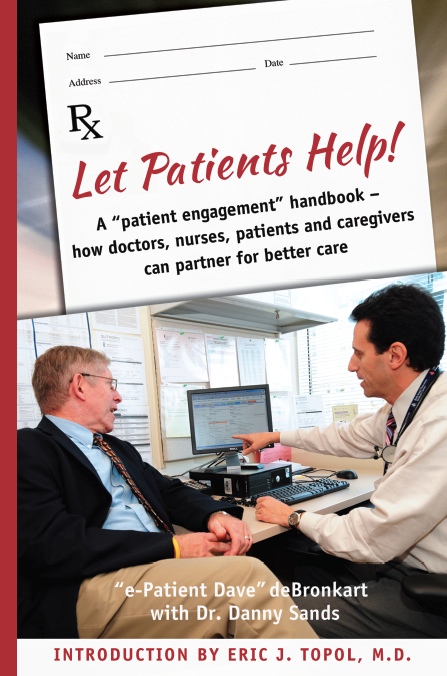 Updated 4/21:
This promotion has ended, with over 1,500 copies now in circulation, including print and e-books!
The links below will still let you buy, in print or ebook formats (ePub for iBook, Kindle, PDF, etc)
See also Saturday's post suggesting bulk purchases to further the movement and help transform your practice.
The original post:
This week only – through Saturday, April 20:
1. Free e-book download!
There's an amazing self-publishing site called Smashwords that gives me total control over distribution of my e-book editions.
Through Saturday, get it FREE on Smashwords!  Not an excerpt – the whole book!  In Kindle format, or ePub (for Apple iBook and others), PDF, and a slew of other formats!
Click here and SCROLL DOWN to the download list ("available ebook reading formats").
Questions? See their support FAQ. If that fails, write to support@epatientdave.com and we'll do our best to help.
2. 50% off on the print edition!
Also through Saturday, get the print edition on CreateSpace at HALF PRICE! At checkout, copy & paste this discount code LMQ6RVTF in the "apply discount" box.
Note: CreateSpace lets me set my own price and discounts, but they do not have overnight delivery. Right now it's showing delivery in a week or so, depending on shipping speed. For quick delivery (at list price), use Amazon:
3. Live on Amazon!
The print edition is now live on Amazon – available for overnight delivery! List price is $8 – no discounts – Amazon doesn't let me do that.
Print edition here
Kindle edition coming soon (but not free here – Amazon doesn't allow that. For free (this week), see above.)
Review it please!
Like it?  PLEASE post a review on the Amazon page!
And tell friends. This promotion is ONLY THROUGH SATURDAY.  I want 8 million downloads of the free ebook. Do it. :-)
Let patients help!
_______________
Volume discounts:
After the promotion ends, volume discounts will be available. (I've already had one conference say they want a copy for everyone who's attending.) Write to support@epatientdave.com.