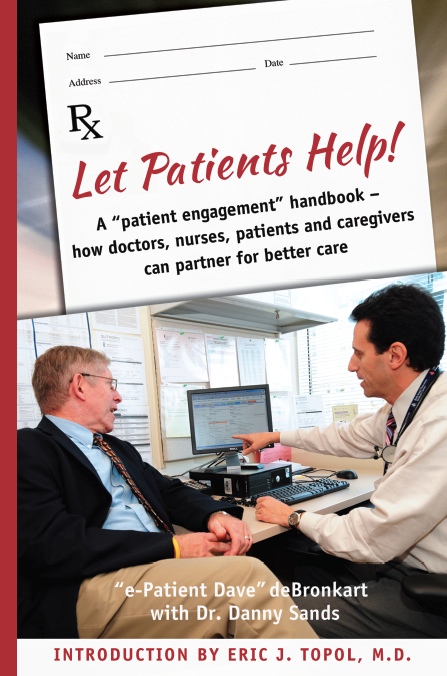 I have a suggestion, a bold one, to go large with this cause:
Buy and distribute a pile of this book. Here.
I say that because of the strong response it's getting. As any proud parent (or author) would be, I'm thrilled at the response to Let Patients Help. I mean, I'm little ol' me, with no big marketing department, no publicist, etc, but in the past 11 days well over 1,300 people have downloaded the free ebook offer (which ends Saturday), and scores of people have purchased the print edition.
It's really interesting when people buy something they could get for free. They must like it.
Meanwhile, @DoctorCaldwell here in the U.K., where I just spoke at a conference, downloaded it and already said this on Twitter:
@ePatientDave Dear Dave that didn't take 90 mins to read!
Yes, I made it short – so it's worth reading. He continues:
How do I get 100 copies to use with my inpatients? :-) :-) Gordon
Why not?? It reminded me of what famous doctor @Berci said on the back cover:
Every medical student must read your book. How shall we achieve that?
Sweet words to an evangelist. Evangelists love it when people say everyone should read it. That too is part of why I made it short. Another example is shown by Chris Lamer of the US Public Health Service (@LamerUSPHS):
Blown away by Let Patients Help! Plan to read again – great info for patients and clinicians
Worth reading, and worth reading again. So, look, everyone: want to really get it rolling in your community? Buy a pile of them. They're cheap and worth it.
At $8 list price, I don't make a lot of money. (If people buy a million copies I will, but I'm not holding my breath.) Heck, it's cheaper than my famous "gimme my damn data" coffee mugs, and a heck of a lot more transformational!
During this week's promotion – half off on CreateSpace (discount code LMQ6RVTF) – here's what it costs to buy 50 copies, including shipping:
$200.00 – 50 @ $4
$   23.00 – standard shipping
$223.00  total
That's $4.46/copy. Delivered. A great big transformational project for your department or your practice, for less than $250!
Even when the half price promotion ends, it only goes up $4, to $8.86 a copy. Delivered, in the US. (Amazon UK: £5 each, with free super-saver shipping. So for £250 quid you can have fifty. Delivered.)
For bulk purchases you can ask for discounts. I do want a million readers and doers who do what the book recommends: Patients and clinicians together, making participatory medicine a reality!