I'm goin' to a Jimmy Buffett show, and I need help stat!
Click image or here for an 8 minute video of live performances of "Fins" and "Son of a son of a sailor":

Five years ago this month, August 2008, it was a year since my final treatment. I'd beaten cancer and had spent a year wondering "What next? What will I do with my free replay in life??"
What had I always said I'd get around to, someday? In a flash it came to me: Parrothead!!
But there were obstacles. First was the cost of tickets – I was fresh from cancer and a house-sale disaster. Next was that every time I learned about a concert it was already sold out. Then were my three years of being a start-up, with no money for luxuries.
Last winter I realized I could afford it – but again, every time I found a concert it was sold out. What to do?? In early January I did what everyone modern does  – turned to social media. I asked Twitter: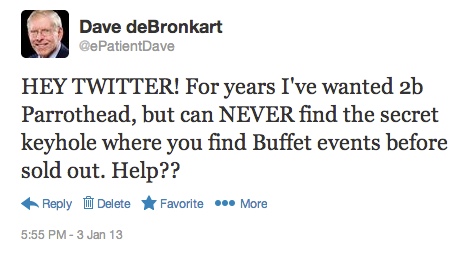 Within a day my problem was solved, after years of struggle: @FrancieGrace (self-styled "ticket queen") clued me in, and I was prepped to pounce. Two months later when the show I wanted went on sale, BOOM: here are the seats we got – front row – in the handicapped section, for Ginny's feet. (Having spent time in a wheelchair myself, I don't recommend it as a compromise to get good seats.)
So we're ready to go. Twitter FTW!
But we don't look the part!
Watching that video above made me realize, holy COW do we have a lot to learn.  I've stocked up on Buffett tunes, and I'm introducing Ginny to them, but I don't have a THING to wear. (Except, well, a certain shirt that I got in Hawaii…)
So tell us: what do we need to know?? Are there secret handshakes, must-have goods, certain rituals?  The "Fins" video makes clear what to do for THAT classic; what else?? (Francie steered us to Hearos drastic-noise-reducing earplugs, Xtreme Protection Series.)
The concert is next Tuesday so I don't have a lot of time for shopping around. But I'm game. Go!
These people sure look like they're having fun – all clipped from this one song! – and I want every bit of it. It's who I was meant to be. Bucket list ho!
p.s.
23andMe says he's in the same maternal haplogroup as me. So is Warren Buffett. And Napoleon.