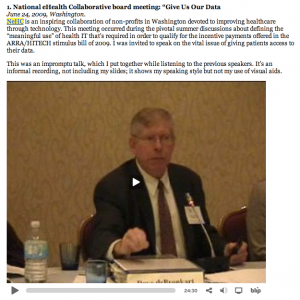 Edited a day later: This entry has advice but see also related post wondering how to convert DVD to YouTube.
_____________
People ask me constantly how I get gigs – how I approach conference organizers, which events they should approach, to apply as a speaker.  I don't know, because I don't approach them – I have never had success doing that. (I'm not saying you shouldn't – I'm just saying I have no answers, because it never worked for me.)
100% of my marketing has been:
this website

, plus

word-of-mouth testimonials:


"This guy was good. Hire him."
I'll have more to say about the website in the future but here are the fundamentals.
You need a website, or at least a blog, or at least a web page somewhere.
Why?
Shoppers like convenience: a web page where they can quickly learn the facts.

That's how you shop online (right?); same for the people who might hire you. It's your job to make it easy for people to find that info.
Not only do you want a single URL to send people, you want others to be able to send it to their friends. Viral marketing.

My own site is a WordPress blog, tricked out with extra pages. (WordPress can add extra pages.)
Regina Holliday's site is a Blogspot blog. Blogspot sites cannot have extra pages, but they can put things in sidebars.
At the simplest level, you can just make a Facebook page about your business.
However you do it, you need a URL that people can pass around to learn how awesome you are.
If you have a site, you're welcome to brag about it – or ask for help – in a comment here.
The basics you should put on it:
A statement of who you are / what you're about. You don't have to be a celebrity and it doesn't have to be awesome – it needs to let shoppers know:
A video of yourself speaking. Get one. Get one. Get a video. Put it on your site. Otherwise your buyers can't tell what they're buying.

The very first time someone recorded me for a meeting, I asked for a copy. It's at the top of this post.
Today, my standard contract says "You're welcome to record me, as long as I get a copy for my website."

Your speaking schedule. As soon as you have more than a couple of gigs (past and future), list them so buyers can see "Other people have bought this speaker."

Don't worry if it's a short list at first. You're not trying to con anyone; if you're good, it will grow.
Unpaid appearances count! Don't tell me "I've only spoken for free." So had I, until May 2010. Experience is experience.

Testimonials from satisfied clients.

Select ones that are as specific and meaningful as you can.
How do you get specific and meaningful feedback? Ask people for it! "I want to build a speaking career. What would you say, specifically, people should know about me as a speaker?"
You can add more things, but those are the basics.
---
Next in the series: #10: Take off your stupid badge.