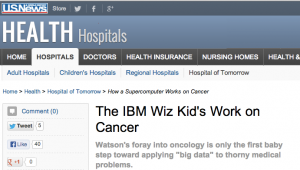 Katherine Hobson has a new article about IBM Watson in the US News and World Report Best Hospitals issue:
The IBM Wiz Kid's Work on Cancer
Watson's foray into oncology is only the first baby step toward applying "big data" to thorny medical problems.
As this giant Jeopardy-winning supercomputer continues its venture into medicine, it's fascinating to watch, but I continue to scream "WAKE UP!!" to anyone at IBM who'll listen, because I think there's a vast opportunity that's not being pursued. And we need it! (I'm quoted at the end of the article, opining on this.)
What they're doing
I love that they're exposing Watson to gobs and gobs of previous cases, as the article describes, so it can sniff for patterns. If there's one thing a well programmed computer can do, it's sniff for familiar patterns.
And I love that they're using it to suggest diagnoses and treatments to the doctor, not make diagnoses or recommendations. (I've long said that I doubted IBM's lawyers would want to be anywhere near liability for a wrong diagnosis and its consequences!) An "information-suck-and-sort" machine should do just that.
(At least for today. Who knows what we'll think in a few years; I'm not in a position to predict.)
What they're not doing (yet)
But I have a problem with how they're limiting Watson's info-sucking: they're only letting it look at things that have been approved by the establishment. That means it will always fall short of what a smart patient community knows. Oops.
In my speeches I always talk various ways that a smart patient community knows things that haven't filtered out to the establishment – and I want Watson to be as smart as those patients. For instance:
As used today, Watson will always fail to know about new research that's not out yet. e-Patients founder "Doc Tom" Ferguson called this "The lethal lag time." Smart patient communities know these papers because they talk to the researchers; Watson doesn't.
As used today, Watson only knows about professional information.

If the literature's out of date, so is Watson. This is no small issue for me: the treatment I got for my kidney cancer is never mentioned to 3/4 of kidney cancer patients because the literature is out of date.  The smart patient community knows this, but a robot that only sniffs where it's told will get out-Jeopardy'd by patients who don't have blinders.
It's blind to side effects that didn't appear in the research. Hobson cites a good example from one of Watson's own "family":
Herbert Chase, professor of clinical medicine in biomedical informatics at Columbia University's College of Physicians and Surgeons and a member of Watson's advisory board.

Chase offers a personal example: He started taking Lipitor and experienced insomnia, but found no mention of that side effect in the literature. Patients on blogs were all over it.
It's blind to knowledge that doesn't interest researchers. In my case, coping with side effects may have saved my life. (My oncologist says so.) Patient communities are all over this stuff – but even six years later there isn't a shred of literature on the subject.

Does Watson take into account the relative strength of the evidence in a paper? For instance, does it give more credence to a study that's been repeated by an independent lab?

Did you know most published studies have never been repeated by another lab? It should make you nervous, because it means you're the second lab. Smart patient communities know this.
In short, I might say: It's great that Watson serves the established way of doing medicine – but wouldn't it be even better if Watson blew the lid off the establishment?  If it went beyond what the best doctors know, and included what patients talk about, too?
So I was thrilled that the article ends thus:
For patients like [deBronkart], the lag between finishing a study and seeing it published can be deadly, he says, so what's needed is to unleash Watson and its ilk to harvest this early, more tentative knowledge. He envisions a tool that reveals a potentially life-saving tidbit shared by a researcher "last Tuesday in Budapest, on slide 27 of his presentation."
Why not??  If the slides are already posted on Slideshare, Watson can easily find them, right??
Hey Watson! Let patients help!