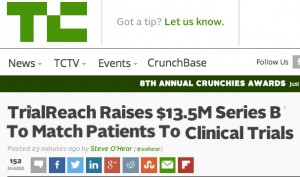 In September 2016 TrialReach rebranded itself Antidote, to shift focus away from the "solution" (the clinical trial), focusing instead on the patient's need: "I have a problem, and I need an antidote."
---
My advisory client TrialReach is on the big hot TechCrunch site today, for their success in raising another $13.5 million (here). I don't do much advisory work, but to this one I said yes, because it's a big push forward in making vital information more accessible to the ultimate stakeholder – the patient – and it's done in way that blends three things I'm passionate about: good business sense, modern technology, and patient-centered design.
(I don't have stock in the company – not even a tiny amount; my policy is that I sell advisory services, but I don't want to be in a position of literally having a stake in how well their stock does. And, as anyone who knows me knows, nobody could pay me enough to say or do something I don't believe in. So I'm talking about this company because I believe it deserves attention, not as part of any quid pro quo.)
What TrialReach is
Ever used Kayak, the travel search engine? Unlike all the individual airlines' and hotels' sites, it pulls together tons of info and lets you sort and filter them the way you want.
Well, one of their top people, Pablo Gravier, left a couple of years ago and is now doing TrialReach. Eighteen months ago they asked me to be an advisor, and I said yes. Last month I visited them in London for the first time, and was very very happy to see what they've created. They're doing something far more difficult than travel search, and far more important: gathering information about clinical trials, expressing all the scientific stuff in human-readable terms, and presenting it to patients who want to get involved.
We already have clinical trials sites that simply list the raw facts – e.g. ClinicalTrials.gov. But I can't tell you how many people have told me what a slog it is to find what you need there.
I won't go into all the specifics – check out TechCrunch and their site. This excerpt illustrates why I love what they're doing: (emphasis added)
"…another way to think about TrialReach is that it is building a meta search engine for clinical trials. That makes even more sense when you consider that co-founder and CEO Pablo Graiver — who tells me he's made 10 trips to the U.S. in the last 12 months — was previously VP Business Development Europe at travel meta search engine Kayak.

"In a call, Graiver told me that TrialReach is part of a wider trend in healthcare that is seeing patients take more control of their treatment. The internet means that there is a greater amount of information available to patients than ever before, through searching online or shared in various online patient communities. And while empowering patients by giving them more direct access to medical information has been resisted by some parts of the healthcare industry, the cat is well and truly out of the bag, he says."
Well and truly out of the bag, indeed. Power to the people – the people who need it – and here's to blending modern technology with sociological challenges.