Updated – see modified population graphic
Some people moan about adding years. I love 'em. Today I'm 65, and I want lots more! I wanna get old!
We the old and many
are coming for you!
Did you know more than half the humans who've ever been 65 are alive today? That's partly because medicine keeps saving people like me, who tried to die in middle age. Thanks, medicine; now get ready for lots of us getting older, happily, with chronic conditions. (I myself have slightly elevated blood pressure, and I'm just emerging from "obese.")
Like my classmate Jay Pollack, who posted on Facebook that he's getting a pacemaker because medicine saved him twice in ten years.
Have you thought about my question last September about taking care of all the old people?  Or how about Pew Research's new book Next America, which depicts among other things how America's classic "age pyramid" is becoming rectangular? Each band in the graphic is a five year age group. We used to have very few 80+, and now it's commonplace: (Graphic modified 10pm ET)
(Check the original animated graphic, btw. It's impressive.) It's all around you:
When I was born, 8% of America was 65+. Today it's 16%. When I turn 100, it'll be 22%.

When I was born, for every worker 22-64 we had 0.15 elders.
Today every worker has twice that.
In 2050 it'll be almost triple (0.42 elders – every working age person will have almost half an elder to support!)

Have you looked at an obituary section recently? Lots of people die in their 80s and even 90s. Not unusual anymore.

I'm 25 years away from 90. Woohoo!

Have you noticed how many wheelchairs are waiting when you get off a plane? (I can tell you, not all airports are equally good at that, and definitely not all countries – Iceland is the worst I've seen)
And I'm not talking about really-elderly "enfeebled" people, as they're sometimes called – plenty of us are well over 70 and don't look it. (Well, they do look over 70, because they are – but they're not what we expect! See, the world has changed.) Personally, my only concession to advertise the process is that I've stopped snipping my eyebrows, so they're getting bristly.
A year ago I posted "When I'm 64," including the Beatles song. It was a bittersweet blog post, because in the previous nine months I'd lost two brothers and my best friend. (It's sobering to re-read that. Also, it lists lots of things I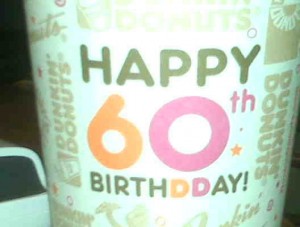 lived through in the '60s. Check it out.)
Four years before that, as I turned 60, I posted the photo at left on Facebook – it turns out the Dunkin Donuts chain and I were both born in February 1950. So I got to have a coffee cup that said my age and had my initials.
Well, I like numbers, ratios, and all that. So let's look at how old 65 is.
How far back is 65 years?
I was born 65 years ago, at mid-century, 1950. How long a time is that?
65 years before that was 1885. (Yikes – 1885 was "two of my lifetimes" ago??)
65 years before that was 1820. Three of my lifetimes ago was 1820??  I must be old!  Yay.

Thomas Jefferson and John Adams would live another six years, before both died on July 4, 1826.
Of course when I was a kid, the 1940s were ancient history. But here's another look:
World War II ended 4½ years before my birth. That's as far back from today as August 2010. (Are you kidding me? WW II was that close??)
Social Security had started in 1935, 15 years before me. Today that's as far back as Y2K.

At that time, life expectancy for an American male was 63½. If that were still true, half the guys I grew up with would be dead by now. (That'st the definition of a median.) Boy has medicine changed that – and good nutrition, environmental regulations, etc. etc.
The 1929 stock market crash, and the whole Great Depression, and all of World War II had all been in the 21 years before my birth. Today that's as far back as 1994(!!) – not nearly as ancient as I used to think!  (I mean, the stock market crash and Depression and all of WW II only took that long??)

And yet, that 21 years is less than a third of my lifetime so far. I must be old. Yay.
And oh, the things I've seen.
Wanna know how really old 65 is?  I remember:
The first music videos
When cable TV started
PCs and Macs
When you could pull into a gas station and ask for a dollar's worth of gas. (And they'd pump the 3 gallons for you and check your air and clean your windshield … just like in "Back to the Future.")
When ZIP codes replaced postal zones. (We went from Alexandria 9, VA to Alexandria, VA 22309.)
When phone numbers went from five digits to seven

Our number started with 2-, then became EMpire 2- ("Empire" was the exchange, as in Empire State), which became 362-.

When we got seat belts installed into our cars
When cars had that thing on the right, the button on the floor by the driver's foot. (I love puzzling millennials with what the heck that was.:-))
When you could go from the North Pole to Guatemala without a passport.
When white lines first got painted on roadsides (so you could see them at night)
When telephones could be used as blunt object murder weapons

Then when touch-tones came along

When the Surgeon General first issued tobacco warnings
When the weather forecast stopped saying it will rain and adopted "probability of precipitation"

This was the first conspicuous moment where a science basically admitted "We can never be certain." I think all of medicine would work better if everyone could tell the truth about uncertainty.

When TVs had three channels and rabbit ears (and when color TV came along)
When FM brought stereo to radio(!)
When most of the 45 vintage sexist ads were real and all too normal
When Kathrine Switzer "illegally" ran the 1967 Boston Marathon (the photo at right shows a race official trying to pull her out) (Read her own story here)
When the U.S. "Title IX" legislation declared that women's sports must be funded equally. (My high school's athletic director quit, I'm told! He firmly believed his beliefs, including that it was just crazy for girls to want to do that stuff … but then, go back and read what Kathrine Switzer's coach had said.)
Then, 32 years after Switzer, when Brandi Chastain (right) and the US women's soccer team won the World Cup. (Thanks to Diane Stollenwerk for this particular contrast.)
I've seen enough to know:
Change is possible.
Soooo, folks, nobody can tell me change isn't possible, in culture or in science. It might take a generation – remember what Max Planck said:
 "A new scientific truth does not triumph by convincing its opponents and making them see the light, but rather because its opponents eventually die, and a new generation grows up that is familiar with it."
~ Max Planck (Wikipedia)
But why wait for the old farts to die?? Think what we can do with the extra time if we just do what's possible now!
Because, you see, the way Brandi looks in that picture is pretty much how I feel. L'chaim – to life!