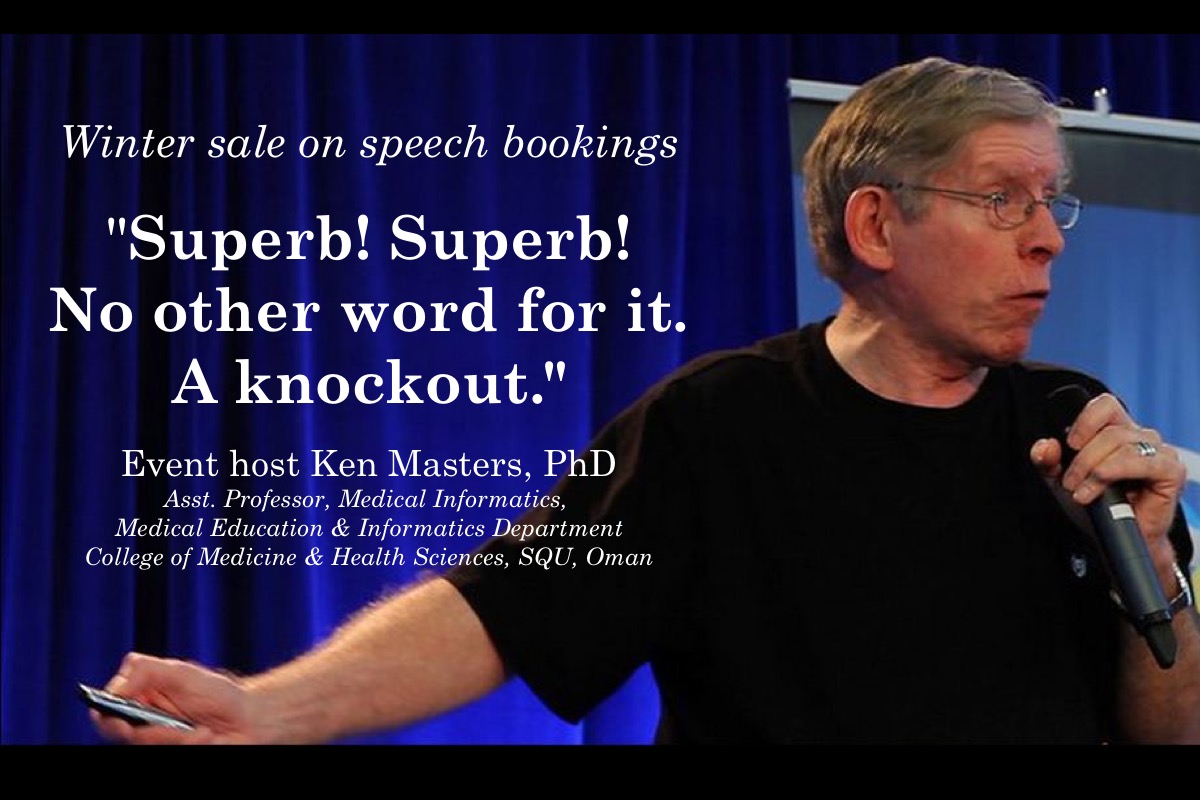 A quick update on two aspects of my speaking business:
As the post title suggests, the "consultative speaking" approach I use continues to bring great results. (Yes, that's what the client said.)
I'm offering a winter sale because I have more capacity in my calendar than usual in the coming months: half off my usual speaking fee for any bookings with contract signed by March 31. Bring it on! Use the contact page.
Recent speeches have been to audiences of software developers in Amsterdam, innovators (Exponential Medicine, San Diego), and a medication security company customer event then their internal company meeting (TraceLink, Chicago and Boston), and though the audiences were very different, each got very strong response, because every speech is carefully tailored to the sponsor's needs.
My topics have expanded beyond the traditional "Dave's cancer story" and "about e-patients." In addition to custom requests, topics now include

Consumerism
Patient experience
Does AI mean anything to consumers?
Blockchain: does it solve any real-world problem for patients?
Corporate and association speeches (in or out of healthcare)
Coming soon: Superpatients
Perhaps most significant, I have a new book in the works: Superpatients: Patients who extend science when medicine is out of answers. I'll be saying more about it in the coming days. (These stories are amazing, and they show that "empowerment" was only the tip of the great big iceberg of letting patients help healthcare achieve its potential. I mean, amazing.)
Favorite new testimonial
This fall I presented a webcast to the Association for Medical Education in Europe's meeting in Basel, Switzerland. Reviews were beaming! Here's what the organizer said:
"Superb! Superb! No other word for it. I think it's a knockout."
Event host Dr. Ken Masters, PhD
Asst. Professor, Medical Informatics, Medical Education & Informatics Department
College of Medicine & Health Sciences, SQU, Sultanate of Oman
This talk was highly technical from the medical educator's perspective, yet it had to be only 13 minutes, as is often the case today. Here's the recording of my screencast, if you want.
Again, for bookings use the contact page, and for more news about Superpatients and more, stay tuned.