This is a quick update on the status of Facebook's issues. I could have written several such posts as the weeks have gone by since I posted that I quit FB on January 7, but this will do.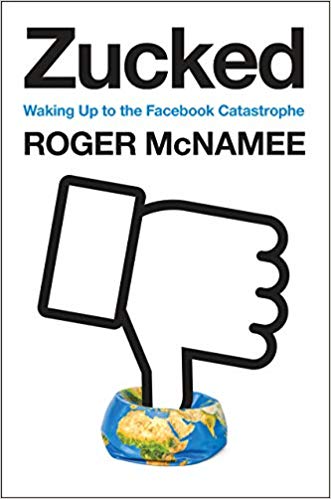 I'm bothered that this isn't in the news more about healthcare, but it is in the news for high tech and investors, especially since the Feb. 5 publication of the new book Zucked, by Roger McNamee, who was an early advisor to the company and continues to be a big fan. It might sound like a tell-all scandal book (and "catastrophe" in the subtitle is certainly scandally) but I'm listening to it on audio and the book itself is not, at least so far. The guy believes that Zuck (whom he personally coached) and COO Sheryl Sandberg (whom he recruited to join FB long ago) have just gone too far in their belief that they're not responsible for what anyone does with their software.
This is not a trivial question – I mean, are they responsible? And if they're usually not, is there no line that could be crossed, at which we'd reasonably expect anyone to say "Whoa, THAT's not okay. Stop that!"? McNamee's great concern is that Zuck and Sandberg are explicitly saying "Right – anything anyone does with this is not our concern" and "We just want to bring the world together."
I keep being reminded of some old-school science fiction movie where the inventor deeply believes he's going to save the world, only to discover his creation has more power than he can control, and is crestfallen when harm starts to happen. (Heck, that story line goes back at least as far as Frankenstein.)
But generally such scientists don't start out creating software to let dudes rate chicks, as Zuck did. (Chicks, as in Harvard students. No disrespect or selfish exploitation here, nope…)
Two recent concerns to ponder:
It's been discovered that Facebook tools have been used by anti-vaccination groups to target ads at "women who have expressed interest in pregnancy." One particular group bought millions of exposures (ad views) in Washington state, where the governor recently declared a public health emergency because of the measles outbreak. (Here's a Google search for such stories this week.)
It's been discovered that they've been paying teens to install software called "Facebook Research" on their phones. It actually includes a so-called "root certificate," which (when the teen clicks "yes") gives the software unlimited permission to snoop anywhere, in any app, look at selfies and other photos, etc etc. Oh, and in some cases it was distributed without FB's name on the app.
I could go on, but I just want you to know (a) there are real questions about whether "we're not responsible" is viable excuse (or even credible), and (b) we keep discovering stuff they did that can't possibly be explained that way – e.g. the covert "root certificate," as well as the way they coped with the abuse-group hackers (in my previous post) by immediately destroying all the evidence. Not hunting down the perps – burning the whole thing down!
Oh, and there's the record multi-billion-dollar fine the FTC is negotiating with FB, which from FB's point of view will gratefully put an end to the FTC's investigations – just as the cigarette industry was happy to settle its investigations, so investors could move forward feeling safe.
I have to say that being off Facebook has not been easy. I miss automatically hearing what friends are up to, and I miss being able to share fun or interesting things with a huge audience with a few clicks.
But is there ever a limit, a point where we say "Too much"? That leads to my last items:
On another issue, non-privacy, on Feb 7 the Germany anti-trust regulators basically busted Facebook's whole advertising business by saying the company has so much market power that consumers don't in reality have much choice about whether to be users, so FB can't really claim that people agreed willingly to FB's fine print that says "You hereby allow us to scrape up what you do, connect it to all your friends and their friends's name, and lots of other things." Like, for instance, FB builds your profile partly by digging up what you did outside FB, and using all that activity to make their profile of you more attractive to advertisers. (Surely just another example of their goal of bringing people together.)
One huge ethical problem with that approach is that the resulting profile can then be used to, for instance, target "women who've expressed interest in pregnancy" – even if they didn't say anything of the sort on Facebook.
As a final note, another new book, out last month, is Surveillance Capitalism, by Harvard sociologist Shoshana Zuboff. I'm reading that too – it's nerdier than most people would enjoy, but although it's a bit ranty in places, she makes a solid case that the players in our world who have tons of data about us have a major advantage that will be increasingly important. I haven't stopped using my computers or iPhone (heh, obviously) but it adds to the overall question of what's going on.
(Zuboff is known to many for her 1989 book In the Age of the Smart Machine. That was thirty years ago – a generation ago. Really visionary books often have Amazon reviews that crack me up, like this one: "not particularly perceptive (much of it is pointing out the obvious)." Yeah, now it's obvious, 30 years later. Such is the life of the visionary.:-)
Someone said FB's claim "We're not responsible for what people do with our software" resembles the NRA saying "Guns don't kill people – people use guns to kill people. The gun isn't the problem." Whatever you think about that argument (I have good friends who agree with it), there are at least two differences between the Second Amendment and Facebook: (1) guns are believed by some to be essential for personal defense, and that's certainly not so for FB; (2) guns aren't marketed by saying "We just want to bring the world closer."
By being off Facebook I've freed up a lot of time, which I've been using on LinkedIn, which turns out to be good for my business. And for the social connection aspect, I've decided to try getting more active on this blog, too.
p.s. If you like, have a look at the FB article in The Atlantic a month ago, Facebook Users Still Don't Know How Facebook Works. Not even its core business practices. But don't feel obligated… that's why this is a PS!