You can't possibly achieve to your potential if you lack relevant information. In the US you're legally entitled to all your health data.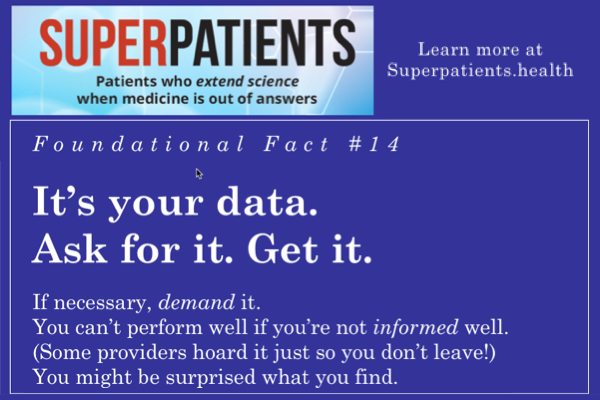 Final entry in the series of fourteen foundation truths about Superpatients.
Good health systems will gladly give you whatever information you need to help understand your case. If that's the case for you, great!
Watch 30 seconds of this – the link starts at 8:47 into the talk. Email subscribers, if you can't see it, click here.
It's from a presentation at the Connected Health conference in 2016 by Yale cardiologist Harlan Krumholz. He asks a health system CEO about patients accessing their data, and the CEO tells him:
Why would we want to make it easy for people to get their health data? … We want to keep the patients with us, so why wouldn't we make it just a little more difficult for them to leave?
There are many other reasons a hospital might resist. Peter Elias, my retired MD friend from Maine, says his health system repeatedly said "We can't let them see the data – it's a mess."
US patients' "right of access" is being newly enforced
The HIPAA health information law is best known (and most feared) for its emphasis on privacy, especially huge fines for anyone who leaks patient data. HIPAA regulations also include a so-called Right of Access: you have the right to access, and get copies of, your data. But there has rarely been any punishment for hospitals who drag their feet.
That may be changing. Early in 2019 the US Office for Civil Rights announced a Right of Access enforcement initiative, and has already announced two fines. The second settlement, Korunda Medical, was announced 12/12/19, with an $85,000 fine for violating a single patient's rights, plus a year-long compliance plan. $85,000 for a single patient violation – that ought to get the attention of some foot-draggers!
Here are two examples of ways to approach it … you can say them with a smile, because usually the clerk you're talking to is not the jerk:
"I know my HIPAA rights, and violations are a federal civil rights issue – could I speak to your office manager?" The clerk stepped into the back office for a minute; I never did speak to the office manager but immediately got my data.
"I know my HIPAA rights – could I talk with your HIPAA compliance officer?"
Just realize, as you set out on your superpatient journey, that (in the US at least) you are entitled to your data. All of it, even if they make you fight for it.