Update a week later: US confirmed cases is now 312,237;
the number of cases has doubled in SIX days, not 2-3! Good!
SLOW THE SPREAD!
Keep doing the right things!
---
If this post gets too repetitive or long-winded, just stop reading. Sorry, but everyone needs to understand that what scientists have been saying is true, and it's happening as predicted, so don't panic, and do keep doing the right things – as recommended by the scientists.
I've been posting charts of various trends, saying "If this continues, then X will happen" or "Let's see how this pans out." That's how scientific thinking works: you make a prediction (based on some logic you can explain and defend) and see whether it pans out.
Three days ago I posted the graph above, pointing out that the number of confirmed cases in the US was doubling every 2-3 days. Then we had 46,442. Now, here we are three days later and (see illustration) we have 2.68x as many confirmed cases: 125,000. In this case the trend has continued to play out.
Meanwhile some fools don't believe science, or want to wish it away. We have a retired extremist Senator who asserted last weekend that this is all a hoax; the next day his son (the current Senator) tested positive.
Hoax or not, here's another graph, a logarithmic (exponential) chart of the death count. Look: we're precisely following Italy's curve, day for day: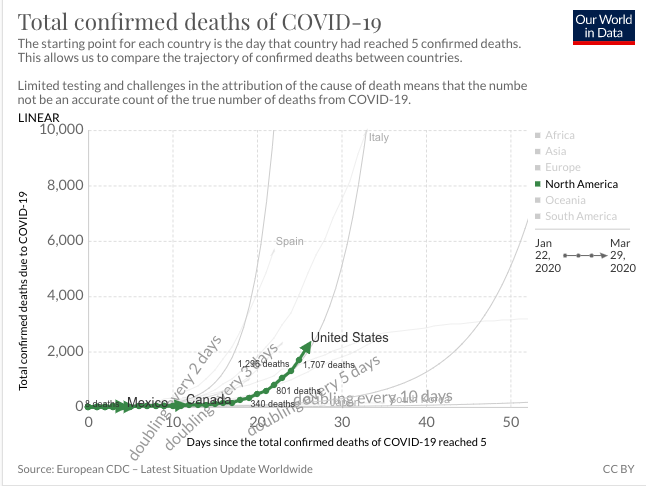 Until something changes, it's likely our death count will grow at a similar pace. Here's today's reality, whether or not anyone likes it.
Dr. Anthony Fauci, head of infectious diseases, finally said today what statisticians have been saying for weeks or months: before this is over the US could have 100,000-200,000 deaths and millions of cases. But, the article continues, we still don't even know how bad it is:
The true number of cases is thought to be considerably higher because of testing shortages and mild illnesses that have gone unreported.
Look:
This is going to get worse before it gets better.
Remember how in the early days it was all tiny numbers, while Italy was zooming skyward? That's how these exponential things go. Now outbreaks are following the early-days pattern in more US locations. Don't panic and don't be surprised. This is expected. It will look bad and be bad, but it's not a surprise.
That coming news doesn't change what's the right thing to do, for yourself and everyone else: Settle in for the long haul and keep doing the right things. As that quote suggests, we don't even know how many cases we have, much less who has them, because
We don't have enough test kits to check everyone YES I SAID EVERYONE. So we don't even know.
People can be walking around with the virus for weeks (as I said the other day) infecting others without a clue. Germs are invisible.
All is not lost. We can get through this. Keep following the rules and tell others to do the same.
Remember, even if you get the virus, most people get better. Keep doing the right things to minimize the chance of getting it?
Stay home as much as you can.
Do go out when you need to – including for your mental health – but don't congregate. For some great ideas on how to stay social – including virtual congregating – see today's 7 minute CBS Sunday Morning segment that I blogged about this morning.
Sanitize, and wash your hands when you come back from (for instance) grocery shopping. REALLY DO THIS. IT'S NOT TOO LATE TO GET THOSE LITTLE BUGGERS! Plain old soap bursts their "lipid layer" and destroys 'em. Magic!
Do what you can to have fun and stay happy while safe at home – again, see the 7 minute CBS video.
If you've been sloppy about precautions (as I sometimes have), remember: as the graph above shows, we're likely to have 8-10x more cases every WEEK until we get on top of it, so the odds of randomly bumping into the virus will grow that fast.
Don't be surprised by the new eruptions.
… in new US locations – they are predictable. It's the same thing that happened as predicted in New York. DON'T PANIC. But keep doing the right things.
And pay attention to the scientists. Their predictions are coming true. Predictions from politicians and internet "covidiots" are not. Do what keeps you safe and informed.