Update Nov 11: see also these related posts –
Finally, do not be fooled by your neighborhood's success so far in not being a hotspot. Read the very sad story of one small town doctor in South Dakota, where for months they had no virus, until BAM, they did. Now "One in every 20 people has gotten sick in about the last month. … These are my patients, my friends, my family. I know every single one. … We got lucky early in this pandemic, and I think that made us complacent."
Don't let down your guard. Survive until we have treatments.
Okay, back to the original post:
---
Last weekend a big shift in our thinking happened here at our home in Nashua, NH. As outdoor summer weather ends, we got serious about indoor air, learned a lot (with help from online friends), and made an informed purchase.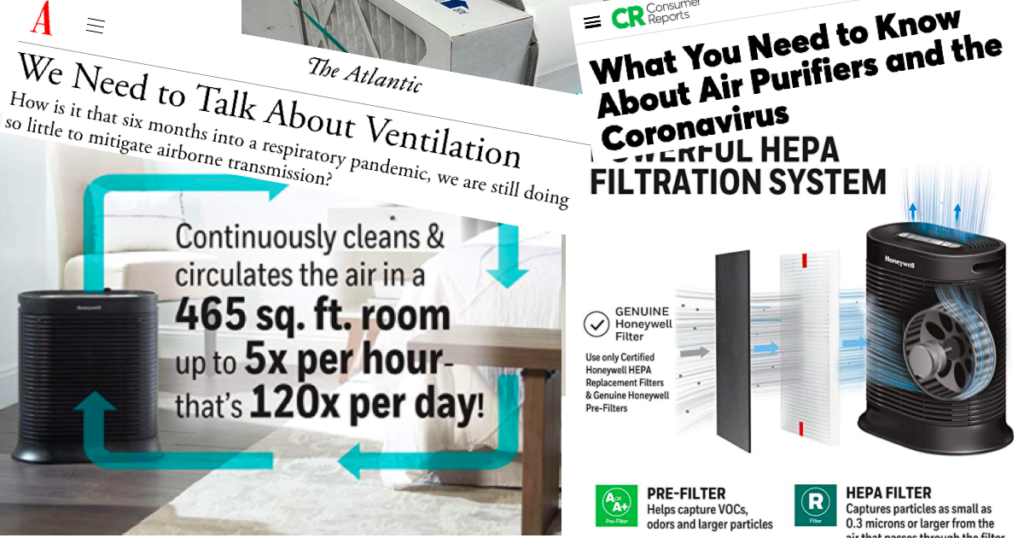 We've been watching the change of seasons; the outdoors has been a welcome way to be active while minimizing the risk of indoor crowds. But for people who have serious winters, adjustment is needed. Our clear and expressed intention is to survive through the next year until (we hope) enough vaccines and treatments exist, so we can all head back to more normal life.
So, what to do through the winter? We wanted to understand virus filtering, both for our home and for other buildings we might enter, and if air travel became necessary.
I posted a question on Facebook about the HEPA filters that have been discussed for months, and got a ton of useful links and information, including from friends in wildfire country like a college friend in Oregon, where they have seriously dangerous air; these are people for whom it isn't theoretical, it's real and present danger. (Thank you to all the idiot climate-change deniers, along with the idiot COVID deniers.)
Outcome: Ultimately we purchased the Honeywell HPA300, pictured above, which was near the top of Consumer Reports ratings. (The higher rated ones were sold out everywhere, no surprise.) Got it from Amazon for $225. You can google "buy air purifier" for other options.
Note added next day: these are room purifiers, not whole-house. Everything in the Consumer Reports article below, and everything you could buy on Amazon or Best Buy or a hardware store are for rooms, not whole-house. They're precisely like a dehumidifier you might put in a room (large or small): they're not connected to plumbing etc and no central heating is required.
The rest of this post is from our education and our thinking. Comments welcome as always!
Links from trusted friends
As often happens, friend Peter Elias MD sent useful educational material: the May Consumer Reports article "What You Need to Know About Air Purifiers and the Coronavirus," which is terrifically informative. I quickly posted on Facebook :
The money quote: "HEPA filters are very effective, certified to capture 99.97 percent of particles that are precisely 0.3 micron in diameter. (Particles that size are perfectly suited to maneuver through the filter's fibers, while larger and smaller particles, because of the various ways they move in the air, crash into the structure.)

"The novel coronavirus itself is 0.125 microns, but Marr says the droplets it travels in—when people cough, talk, or breathe—initially are larger, around 1 micron. That's a size easily captured by HEPA filters."
Aha: now, for the first time, I got a gut feel for why and how HEPA filters can protect against this devious little bugger. It reminded me of a mask skeptic on Facebook who said "the virus is so tiny compared to mask fabric that it's like trying to stop mosquitos with a chain link fence." Good thinking, I replied – except the mosquitos aren't flying around naked, they're riding ping pong balls. Droplets. Imagine firing ping pong balls at a chain link fence: how many would get through? Some, but we know it takes a fair amount of "viral load" to produce illness, not just one "mosquito."
Understanding the size issue makes the subject of filtering sane to me, as does the fact that we're filtering out droplets of various sizes – not trying to nab the tiny virus itself. I'd been thinking: it's one thing for an ordinary non-hospital purifier to remove cat dander and other allergens from the air, but this virus is lethal, not just some feline cat flakes. Blocking the "ping pong ball" particles where it's riding is a lot more sensible.
So then the question becomes, how does a purifier clean a whole room's air, when it's just sitting in one place? Indeed, the next quote I posted was:
"…but with a caveat: "HEPA filters are very efficient at catching coronavirus-size particles, but the particles must first physically travel to the filter," he says. That means an air purifier has to be capable of consistently drawing in enough air to reduce the amount of virus particles in the air."

"You can see how fast an air purifier cleans the surrounding air by looking for its CADR (clean air delivery rate) number on the packaging."
It does this by sucking air in through the filters and then pumping it back out, causing circulation. It's not like the machine wanders around in the air, "vacuuming" every cubic foot – but evidently it's good enough, because these things really do work in ventilation for hospitals and airliners. (It continues to amaze me that not a single cluster of cases has been traced to an airline flight.)
Consumer Reports recommends a CADR of 240; the one we got is 300-320 for different particle sizes.
"We need to talk"
Then friend Angie Claussen sent a great July 30 Atlantic article by the extraordinary thinker Zeynep Tufecki at UNC, author of the breakthrough book about Tahrir Square, Twitter and Tear Gas; yes, she's sharp enough to have potent thoughts on anything she discusses.
We need to talk about ventilation.
How is it that six months into a respiratory pandemic, we are still doing so little to mitigate airborne transmission?
It's long but a great read; she teaches well. I'll only spotlight a few quotes:
The size of infectious particles really matters, because that determines how they travel—are they big enough to be quickly pulled down by gravity or are they small enough to float around? … These droplets are defined as particles bigger than 5 to 10 microns in diameter, and WHO guidelines say that once they are sprayed out of someone's mouth, they travel ballistically and fall to the ground within close range of the infected person.
Wait, what about all this I hear about aerosols?? We'll get to that, but first – don't go ranting (and don't let anyone get away with ranting) about the uncertainty of our science: this is a novel coronavirus. Novel means new! Don't let people be idiots; of course we don't have six years of experience with it – the first human case was only ten months ago. And:
… it took centuries to understand how pathogens such as the plague, smallpox, and yellow fever were transmitted and how they worked. Even with modern science, there are still debates about how influenza, a common annual foe, is transmitted.
[The only shameful surprise is that while the world has figured out how to manage it (including Sweden), ignorant Americans still flame about their god-given right to kill a quarter million of their countrymen. It's a disgrace. But as I say, our job is to think for ourselves, which is why we're here doing this.]
So, about "aerosols" – much tinier droplets. Zeynep again:
Don Milton, a medical doctor and an environmental-health professor at the University of Maryland, compares larger droplets "to the spray from a Windex dispenser" and the smaller, airborne particles (aerosols) "to the mist from an ultrasonic humidifier." Clearly, it's enough to merely step back—distance—to avoid the former, but distancing alone would not be enough to avoid breathing in the latter.
(See what I mean about how she teaches?)
Given that we don't know yet whether aerosols are important, and there could be a high penalty for guessing wrong, I don't want to mess around. Worth noting, though it's been said here before:
People don't emit an equal amount of aerosols during every activity: Singing emits more than talking, which emits more than breathing.
Also Zeynep:
Strikingly, in one database of more than 1,200 super-spreader events, just one incident is classified as outdoor transmission … Other research points to the same result: Super-spreader events occur overwhelmingly in indoor environments where there are a lot of people.
And yet, while it can be lethal, this coronavirus is not the most infectious thing in the world:
some airborne diseases, such as measles, will definitely spread to almost every corner of a house and can be expected to infect about 90 percent of susceptible people in the household. … But not all airborne diseases are super-contagious … for the most part, the coronavirus does not behave like a super-infectious pathogen.
I hope you can see how I felt increasingly informed. Oh, one more quote, relevant to the idiot Americans who have made this country a disgrace in the eyes of the world:
Despite having some of the earliest outbreaks, ultradense cities, and one of the oldest populations in the world, Japan has had about 1,000 COVID-19 deaths total—which is how many the United States often has in a single day. Hong Kong, a similarly dense and subway-dependent city, has had only 24 deaths.
There is no question, no doubt about how to protect against this disease. But we are being run by incompetent idiots, and we need to protect ourselves.
Real world evidence
There's a big movement in healthcare these days to look for "RWE" – real world evidence, vs what happens in labs. (A classic example that sticks in my mind from long ago is that different forms of birth control have very different "clinical" effectiveness compared to their effectiveness in studies; in the real world, some are much less effective than scientists hoped.)
Here are some photos of filters in use from the Pacific Northwest fires, sent by FB friends:
Of course these are just photos; there's no measuring going on. It just illustrates the effect.
What we bought
We chose the Honeywell HPA series, which comes in models that contain one, two, or three "R" filters, each about 7×10″. We got the HPA300, the three-filter model; the next smaller was out of stock. It pulls air in through the front and pushes it out through the top, toward the ceiling: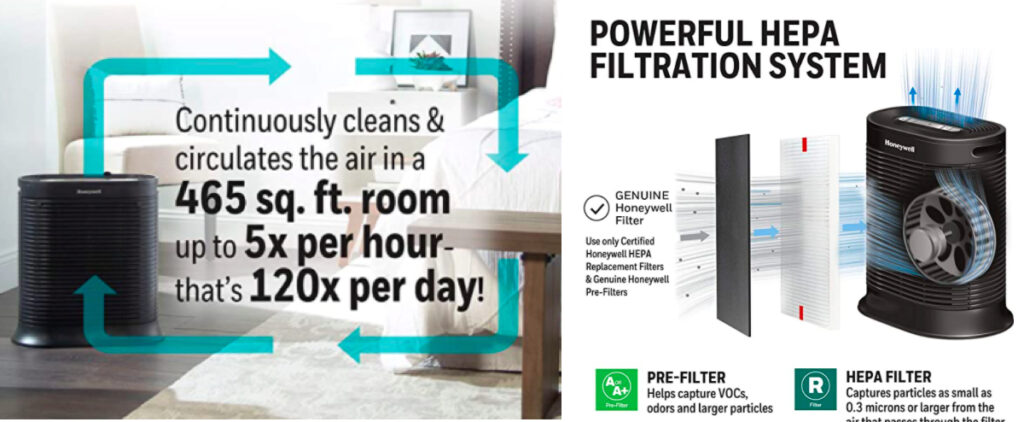 (I discovered that it forcefully blows out through the top accidentally: I was standing over it, wearing baggy shorts, when I turned it on. Got my attention!)
It has a turbo mode for high speed cleaning – it may come in handy if we ever burn something in the kitchen or otherwise need to un-alarm the smoke detector, then three other speeds. The Consumer Reports article pays a lot of attention to noise; at top normal speed this is much less noisy, in my view, than a big powerful "warehouse fan," so to speak. We could easily talk with it running.
---
Don't take my word for it – think for yourself! Our choice is not an endorsement compared to other models, none of which I've tested. I'm just explaining my research, our thoughts, and how it works. And to support your own thinking on this potentially life-altering issue, there's lots more in the source articles I linked to. Your needs & preferences will vary. (In a PS below I'll share ours.)
---
And now for the fun stuff – including some measuring.
For the do-it-yourself crowd:
Scientific thinkers find satisfaction, even confidence, about some new understanding when they see the main principles being put to use in an unconventional way, with a result that the theory predicts. So it had an oddly satisfying effect when Angie suggested this article in Wired:
Could a Janky, Jury-Rigged Air Purifier Help Fight Covid-19?
Indoor-air experts think: Sure, maybe. Why the hell not? We convinced the CEO of an air filter company to give it a try.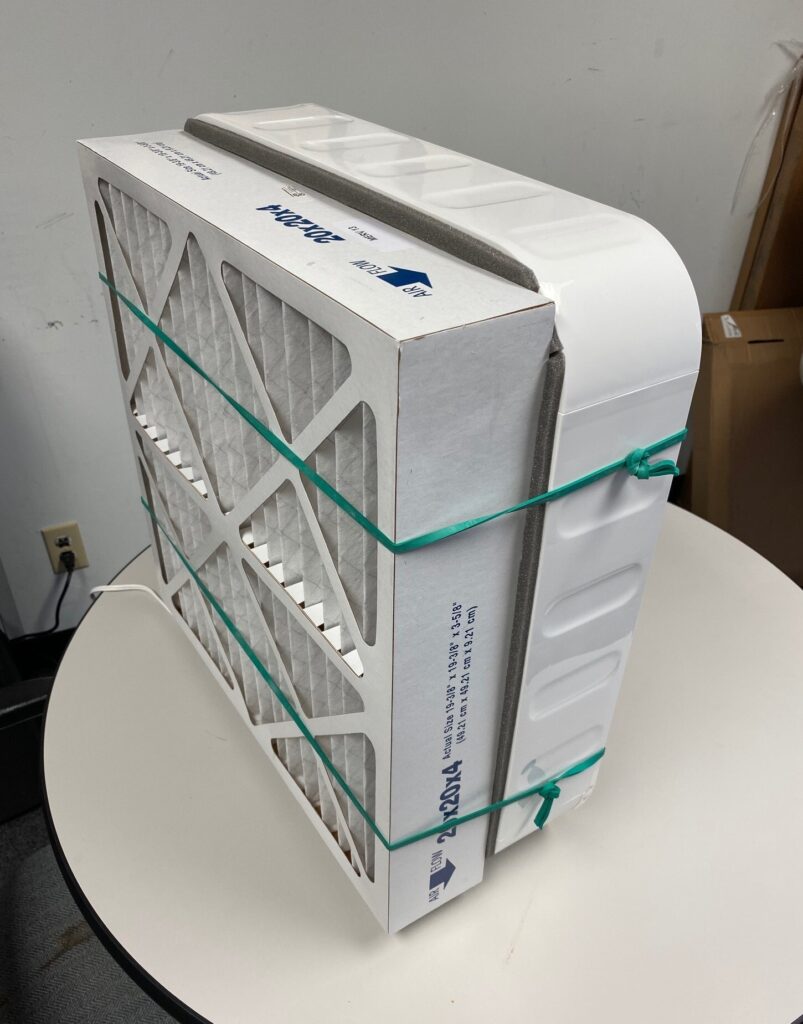 Look: they took a 4″ thick (industrial strength) HEPA replacement filter and strapped it to an ordinary window fan. (On the input side, so the fan pulls dirty air into the filter and spits out filtered air.) And the CEO put it in his instrument lab: "His rig sucked about 60 percent of the 1-micron particles out of the air, and nearly 90 percent of the 10-micron ones."
Now, that's nowhere near the 99.97% filtration of 0.3 micron particles that a HEPA filter removes. But it demonstrates the principle, and it's dirt cheap. If I needed protection fast and had no other options, you bet I'd do this MacGyver.
---
p.s. Why did we decide to act now, instead of just hunkering down for the winter?
Demographically we're in the high risk age group (more risk of severe disease if we get infected), so we assessed these these risk factors that are specific to us:
First, for reasons we won't discuss, we have a relative who may need to stay overnight occasionally.
Second, we're acutely aware that there's a severe drought here in New Hampshire, with warnings of high wildfire risks, so we too may face nasty wildfire smoke. In general, the environment is going to hell, and we'd rather get protected now vs. discovering someday that things are suddenly sold out, as people like her have found.
Third, we're getting replacement windows installed soon, so there will be workers in the house for a day. I'm sure they'll wear masks but I bet they'll also be huffing and puffing. We could certainly postpone it, but it blended in with the other factors.
We judged that all this justifies a $225 high quality machine that weighs just 21# so it can be carried from room to room. (It has a comfortable finger grip; I can lift it easily with one hand.) Smaller models may have sufficed but nobody knows what the future holds, so we're fine with buying more than we may theoretically need.
Longer term we're considering this whole-house in-duct filter system, with filter technology used by NASA, adding room-size machines for any intensive needs such as having a sick person some day.