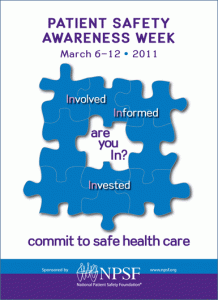 I'll be speaking Wednesday at Mass. General Hospital in Boston. The public is invited; 1 p.m. in O'Keeffe Auditorium. (Go in the main entrance (White Building) on Fruit Street and ask.) This post is mainly about Patient Safety Awareness Week.
Every year the National Patient Safety Foundation (NPSF) sponsors Patient Safety Awareness Week, to raise awareness of the many issues that contribute to patient safety – and the many ways healthcare sometimes falls short.  It's a big deal: most people really don't want to hear this, but thousands of people are accidentally killed in hospitals every month.
Most people don't call it "killed," but some do – what else do you call it when something is done by accident and a person dies?

This does not indict the highly trained professionals who deliver most care. Yes, some workers are careless, and that's a big problem; but the biggest problem is that healthcare hasn't yet figured out how to put systems in place to detect and prevent the million ways something can go wrong when needles, tubes, drugs and knives enter a person's body; when many professionals treat a patient (often without talking to each other), and workers hand off care from shift to shift. Our denial of this is the primary reason why hundreds of people die by accident – not from their disease, by accident – every day in U.S. hospitals.
As Jim Conway, Senior Fellow at the Institute for Healthcare Improvement, says, "Merely being extraordinary professionals is not enough to assure perfection." And until we have such systems someday, everyone who enters the healthcare system – or works in it – is well advised to be aware of these issues, and vow to help each other: as the graphic at left says, "commit to safe health care."
Every year during that week, Massachusetts General Hospital (MGH) has an event to promote awareness. This year, I'm thrilled to say, they've invited me to speak there. The public is invited. It's from 1:00 to 2:30 pm, at the Blake Building's O'Keeffe Auditorium, which is down the hall from the main entrance (White Building).
This will be a first: I'll be co-presenting with another patient, a woman named Seta Atamian. Today she's on the pediatric patient & family advisory council at MGH; she was doing e-patient things 12years ago for her daughter's case (at a different hospital), long before any of us had heard the term "e-patient." She was simply doing what she could to help the doctors help her daughter. (Hint: her contributions and preferences were not always welcome.) We'll be talking about how patients can help improve healthcare.
I should also note that Seta's story has a strong component of my current favorite topic: shared decision making (SDM), which teaches that the preferences of patient and family must be included if we are to make the right decision, because virtually every medical decision has options, with trade-offs that only the patient can prioritize.
Like all medical crises, Seta's story is at times distressing. But it's a strong teachable incident, and is ultimately empowering and inspiring, as she continues her work today to advocate for patients and families.
Patient safety is a separate issue from SDM; this session will have aspects of both.
Here's a three minute video from NPSF about the week:

Thank you to MGH for the honor of inviting Seta and me to speak, and thanks to NPSF for the tremendously important work they do to improve patient safety and quality.