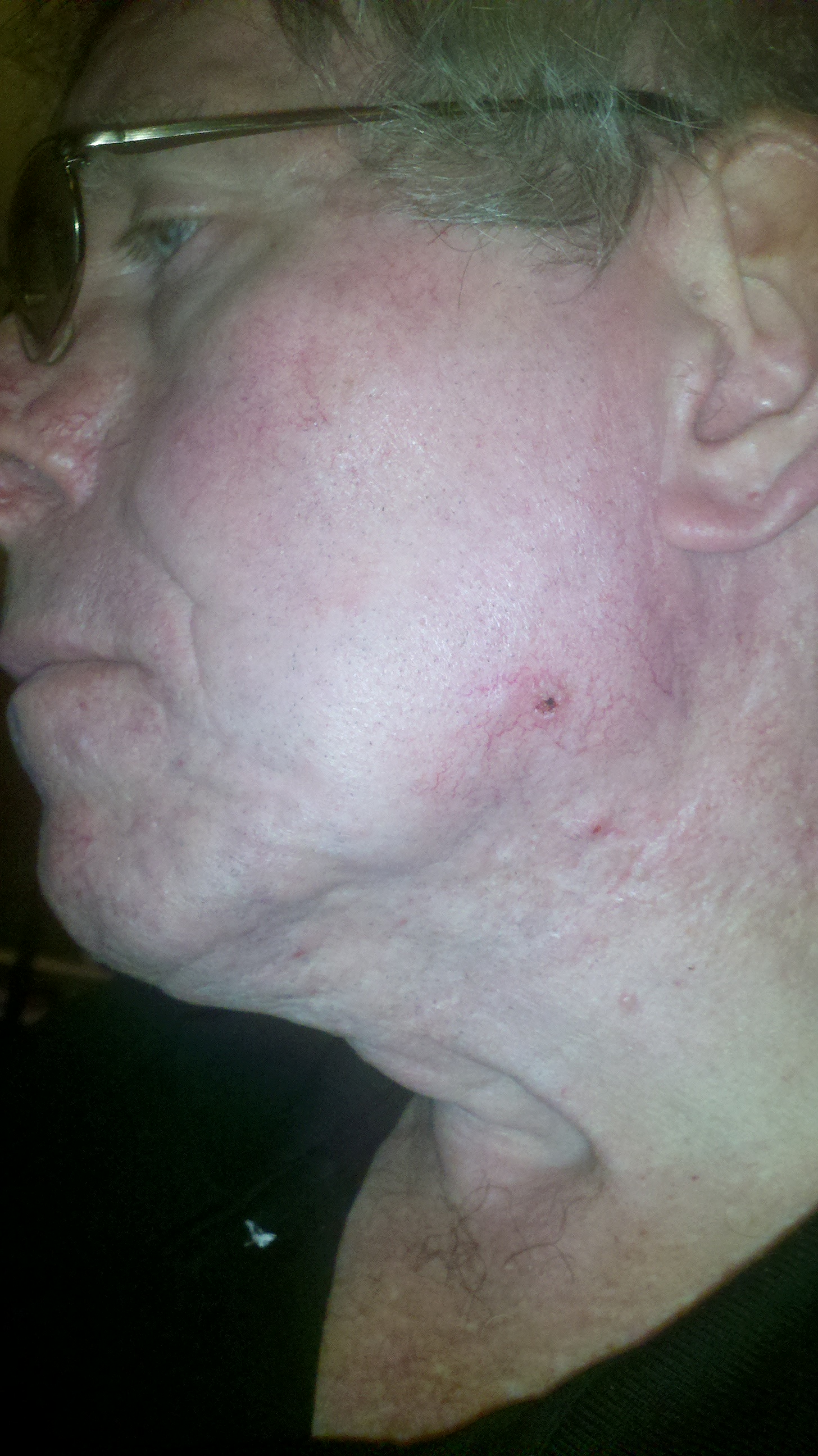 Update Feb. 11: I've decided to publish what I want to find in a provider: see this post.
Be sure too to read the substantial information contributed below in comments, some by e-patients and some by participatory providers. This process is interesting to observe!
An odd consequence of speaking at medical conferences is that sometimes my face is displayed, real big, on monitors at the front of a room. That happened in November at the Aligning Forces for Quality (AF4Q) annual meeting in Washington.
At the end, Lisa Letourneau MD, MPH of Maine Quality Counts raced up, pointed to my jaw, and said "You should have that checked.  I think it's a basal cell." (That's the least serious type of skin cancer – see Wikipedia: "Basal-cell carcinoma (BCC) is the most common type of skin cancer. It rarely metastasizes or kills.") A few days later I took the picture at left, and started watching.
I had a basal cell removed from my nose 30+ years ago. (More on this in a moment.)
To me it was just a shaving cut… but, I realized, it wouldn't heal. For the next two months I was a slug (a not-engaged patient!), but I did take pictures, and son of a gun it did not get better, even when I thought it was finally going away.
When I had my annual physical recently, I asked my doctor, and he looked and said, "Get a biopsy."  I did, this week, and today they called. Yup, it's a basal cell. Thanks, Dr. L!
Remember how you've always heard that a warning sign is "a sore that won't heal"? I guess they mean it. I kept kidding myself, thinking I was continuing to re-injure it shaving. (Not bright, I know.) Then, just before the physical, I ran across a summer photo, and there it was. So I guess it was there longer than I realized.
I'm going to blog this experience, as I try to practice what I preach: get engaged, learn what I can, explore my treatment options, connect with other patients.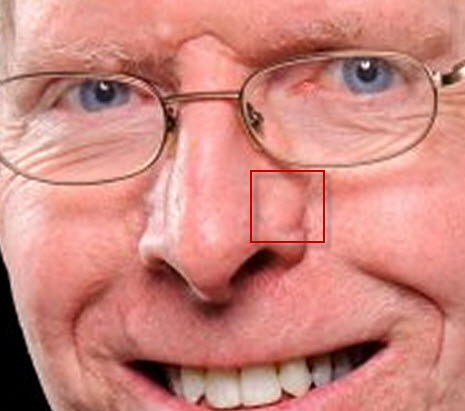 They (dermatology at Beth Israel Deaconess) recommend Mohs surgery – a day-long outpatient procedure. This seems like a good idea, because the procedure 30 years ago involved moving a hefty skin flap from the adjacent cheek onto the nostril, even though the cancer itself was much smaller. (Photo, right.)
So here we go. My to-do list, practicing what I preach:
Connect with a patient community (skin cancer patients), if I can find one. So far my own list of patient communities doesn't have one. Anybody know of one? Update 10 a.m. Friday: I've fixed the Patient Communities link (thanks Trisha!) and now I do have several skin cancer patient communities to explore – thanks to you!
Learn what I can about the disease: what is basal-cell carcinoma, anyway? What goes wrong in it? Starting now: the Wikipedia article. Next: ask my clinicians. (And, of course, a patient community when I find one!)
Assess my treatment options.

What are the other options, besides Mohs? (I'm definitely not interested in "do nothing and wait.")

I'd love to connect with patients who've had Mohs – or any other treatment.

Presuming I go Mohs, what are my options for different providers?

I have $10,000 deductible health insurance, so this will come out of my own pocket, and you can bet I'll be asking around: "Hey doc! What's my cost going to be? What-all will I be billed for, line by line? And what's your outcomes data? Thanks! :-)"
And yes, I will negotiate – like many Americans today, I pretty much have to. "Can you do any better on the price?" I won't choose based on the cheapest bid (that can be suicidal), but price will definitely be a factor.
"Bidders," note: I'm willing to travel if I find a great clinic at a great price. If I can save $3,000 with $1,000 of travel costs, you bet I will! This is the glory of consumer mobility: as we fall out of the insurance system, we can go "out of network" as much as we want, because we're on our own. At last.
By the way: here's to advances in medical science! Not only is Mohs reputedly less destructive to the face (yay!), but it's outpatient. My surgery long ago required hospitalization.
And here's to good doctors and patient-centered care, because the surgeon I had back then was a jerk. (This was one of the formative moments that led to my being an e-patient years later.) He got hostile when I asked if I'd have a scar (!), saying "I am a plastic surgeon." If anyone ever acts that way with you, run: this guy never came to see me in the hospital – I had to discharge myself two days later.
Stay tuned.
p.s. No, this is not a dumb scheme to increase blog readership! I don't sell ads. :-)