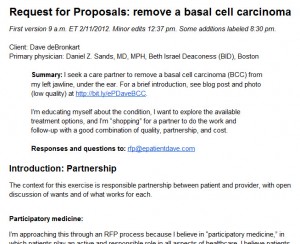 The other day I announced my new skin cancer diagnosis and discussed how I'll blog my approach to it as an e-patient.
I've decided to explore my options by doing what companies do when they're shopping for a solution: they write a Request for Proposals, and let vendors reply. But in this case what I published isn't cast in stone – I invite discussion and suggestions. And, significantly, I start with the context: partnership; participatory medicine –


I'm approaching this through an RFP process because I believe in "participatory medicine," in which patients play an active and responsible role in all aspects of healthcare. I believe patients should play an active role in making care more cost-effective and patient-centered, by being responsible about costs and by saying what they want.
Here's the RFP, in Google Docs. At top right of that page there's a place to leave comments, or discuss here. Thanks for helping!