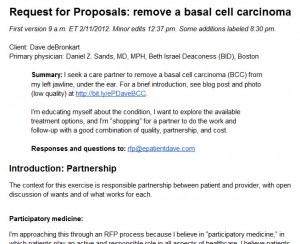 Be sure to scan the 57 comments readers added, below.
The other day I announced my new skin cancer diagnosis and discussed how I'll blog my approach to it as an e-patient.
I've decided to explore my options by doing what companies do when they're shopping for a solution: they write a Request for Proposals, and let vendors reply. But in this case what I published isn't cast in stone – I invite discussion and suggestions. And, significantly, I start with the context: partnership; participatory medicine –


I'm approaching this through an RFP process because I believe in "participatory medicine," in which patients play an active and responsible role in all aspects of healthcare. I believe patients should play an active role in making care more cost-effective and patient-centered, by being responsible about costs and by saying what they want.
Here's the RFP, in Google Docs. At top right of that page there's a place to leave comments, or discuss here. Thanks for helping!
---
Update: This triggered an enormous amount of discussion on social media, additional posts here (with the results of my shopping), and even an article four years later in the New York Times, which I posted about with additional thoughts and resources.
---
Additional posts about trying to be a responsible shopper for healthcare:
2/9/12: Time to practice what I preach: I have skin cancer again.
2/20/12: It turns out being an engaged patient/consumer takes time.
3/25/12: Let Patients Help, Cost-Cutting Edition, Part 3: Shopping for my next CT scan
5/10/12: Decision: Just scrape it off. ("ED&C")
5/21/12: Raw numbers for treating my basal cell carcinoma at three hospitals
6/16/12: A dermatologist responds: "Who the heck is charging $3000 for Mohs first stage?"
10/1/12: Perceptions creating reality: the scapegoat dynamic and the role of the patient
11/11/12: Great Robert Wood Johnson video "This Cost How Much?"
12/11/12: Reprise: The healthcare waste pit is BIGGER than the fiscal cliff.
1/6/13: Pricing visibility – video interview with HealthWorks Collective
3/4/13: Let Patients Help, Cost-Cutting Edition: "Chaos behind a veil of secrecy"
3/11/13: The Big Ugly continues: "Hospital charges bring a backlash"
3/25/13: An encounter with the Swiss medical system
4/25/13: The reality of shopping for health insurance (pre-Obamacare)
6/5/13: "Chaos, behind a veil of secrecy": Show me the cash flow
2/7/14: A new era: the "consumer-patient," via Inquire Healthcare
3/11/14: How much should/could this pathology cost? (Skin cancer biopsies)
9/11/15: Article in USA Today soon with my opinion on costs, and online advice
9/21/15: USA Today article on "secret malarkey" of healthcare pricing
And my oldest posts about trying to understand health costs … note, not a thing has improved as of this update in 2019:
1/9/12: Let Patients Help, Cost-Cutting Edition, part 2: Shingles vaccine
11/5/11: Let Patients Help, Cost-Cutting Edition, part 1: a bill.