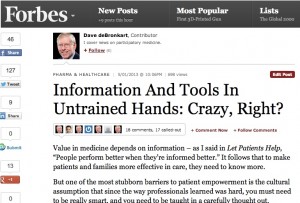 Update 5/10: fixed the link to the Forbes post. Thanks to Flora for reporting the mistake!
My new post on Forbes has generated the most activity I've had there, in terms of views, Tweets, links and comments. Its topic is an amazing new thought that's come to light just this year, thanks to a TED Prize talk that was given this winter by a guy name Sugata Mitra. His thing is "SOLE": Self Organized Learning Environments.
(I know some of you already saw this on Forbes, but a lot of my readers don't go there.)
Click the image (or here) to visit the post and watch his 2013 TED Prize talk.
He's clearly crazy.  In 1999, in the slums of New Delhi, he put an internet-connected computer through a hole in the wall that's the boundary of the slum region, so little kids could get at it. He gave them no instruction, and came back months later. What he found, as you'll see, is that the kinds had figured out all kinds of stuff, just by poking and exploring. Without mature supervision.
Of course everyone said "Someone must have come by and helped them." (When something unimaginable happens, people always think of explanations. That's normal human response.) So he went hundreds of miles into the countryside, where a smarty wouldn't be likely to wander by, and the same thing happened.
Questions to think about:
Is it possible that people (of many ages) might be capable of much more than we think, if we give them tools and stay out of the way? (I'm not guaranteeing anything- I'm asking. Watch the video and think.)
What are the parallels between this and what happens in an online patient community, not supervised by doctors?
What experiment would you like to see next, either in medicine or in anything else?