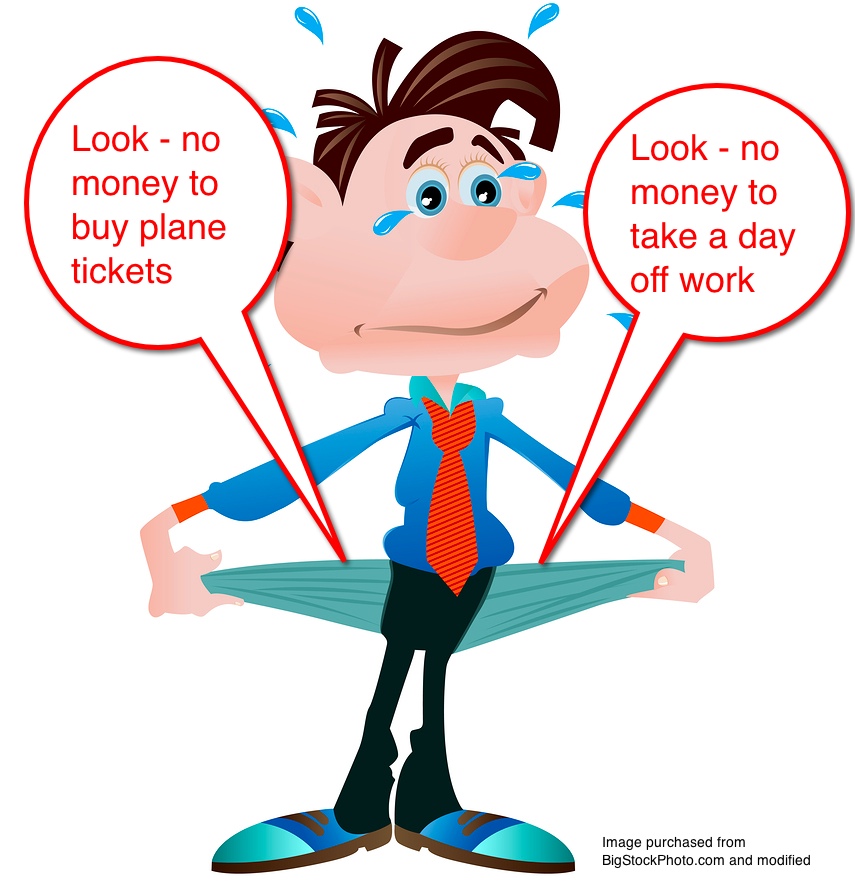 Glossary for non-English readers: "ratty" = poor condition; boxers = boxer shorts (Wikipedia).
This is an update on a post from three years ago about the business of patient engagement – the challenges of starting a business without funding or a proven business model. As regular readers know, after years of struggle I turned an important corner (my business reached break-even), and looking back, I want to explain something.
Back then my underwear included ratty boxer shorts. (I took a picture but you don't want to see it.) In the face of my other bills, I couldn't afford to buy new underwear. Yet time after time people invited me to come…
speak for free
advise their company for free on the phone
attend policy meetings for free.
Some even asked me to pay my own travel costs. See the recent post A turning point for patient voices, which details the irony in telling someone their voice is valuable but then saying it's not worth spending a cent.
(Others did offer support, even for advice by phone. Early examples who come to mind include Emmi Solutions and InfoSurge – importantly, both are patient education companies!)
Like many experienced patients, back then I had plenty to say but I didn't have any money. To attend an event and contribute value, I needed funding . I was the same person I am today – I just didn't have any money. And I couldn't spend money I didn't have – I was being responsible.
How ironic that being responsible would squelch a patient.
Here's the trap: it's become clear to me that folks think people who are short on cash must be incompetent: "They're poor for a reason" – so what good could their opinions be? That's ironic because the most experienced patients tend to have the most front-line experience.
Have you ever had no money?
In a skit long ago, comedian Flip Wilson said "It's hard to sing the blues when you're pretty much doin' all right!" A similar problem seems to affect people who have good jobs in the industry so they can't imagine what "no money" means to patients, and would rather not think about it.
Heck, just before my cancer diagnosis I remember getting a $25 restaurant gift card and getting two meals each out of it, for my wife and me.
Again, I have no complaints. I've never been rich, but I've been comfortable all my life – until this happened. And some years back I myself couldn't understand how some people could be thrilled when they got new underwear for Christmas. Now I know.
A year or two back one conference company, World Congress, talked to me for an hour about whom to invite to a new conference, then told me they had no intention of hiring me – they were just getting free consultation. (It's one thing when a conference asks relevant speakers to speak for free; it's even worse when they don't know whom to invite! But that's the company's business model: get somebody to dream something up, get others to contribute content, and get others to come pay for it.)
It's a mistake to think someone who can't donate their time must be stupid.
I want you – all of you in healthcare and government and health policy who are "pretty much doin' all right" – to understand: This is what some patients' lives are like – especially the sickest, most experienced patients. Yes, medicine does need to hear patient voices, and no, we can't just ask them to donate their time. You may find it hard to imagine, but it's true. Think about it, and believe it.
From the bottom of my heart, I thank the people who supported me in those early days. Thank you, thank you, thank you.