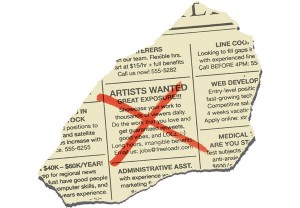 This is a brief addition to the Speaker Academy series, which started here. The series is addressed to patients and advocates who basically know how to give a talk but want to make a business out of it. I'll try to be clear to all readers, but parts may assume you've read earlier entries.
This post is particularly about how to deal with clients who say "We'd be really honored to have you speak for us. For free. We love your work, but it's worth exactly nothing to us."
Yesterday's New York Times Sunday Review had a piece by Tim Kreider that's so close to what we discussed here that a half dozen people tweeted it at me. :-)  It's about freelancing as a writer or illustrator, but the lessons are identical for patient speakers. In the Times illustration at right, change the language from "artists" etc to "speakers" etc and you'll recognize it.
Go read the piece. (It's only 1600 words – 3-4 minutes for most people.) The author's closing advice will sound familiar:
Here, for public use, is my very own template for a response to people who offer to let me write something for them for nothing:

Thanks very much for your compliments on my [writing/illustration/whatever thing you do]. I'm flattered by your invitation to [do whatever it is they want you to do for nothing]. But [thing you do] is work, it takes time, it's how I make my living, and in this economy I can't afford to do it for free. I'm sorry to decline, but thanks again, sincerely, for your kind words about my work.

Feel free to amend as necessary. This I'm willing to give away.

Tim Kreider is the author of "We Learn Nothing," a collection of essays and cartoons.
Related posts here:

"No, I can't donate my time to you – not even over the phone.
"If there's no economic value for you in what I have to say –
if my views are 'so valuable' but not worth a penny –
that's fine; business is business.
"But I can't donate my thoughts for you to sell
in a report or a conference.
If there's value, let's do business."
---
Next in the series: #13: Strategic freebies