In a Twitter chat this afternoon, friend Dr. Jack West noted that some e-patients are great to work with and others, not so much. It's obvious we need to teach people how to do this effectively – both docs and patients alike … sort of a "patient engagement handbook."
So I decided to publish this, from the "tip sheets" section of my book Let Patients Help: A Patient Engagement Handbook: :-) This part is written by my primary physician, e-patient pioneer Dr. Danny Sands.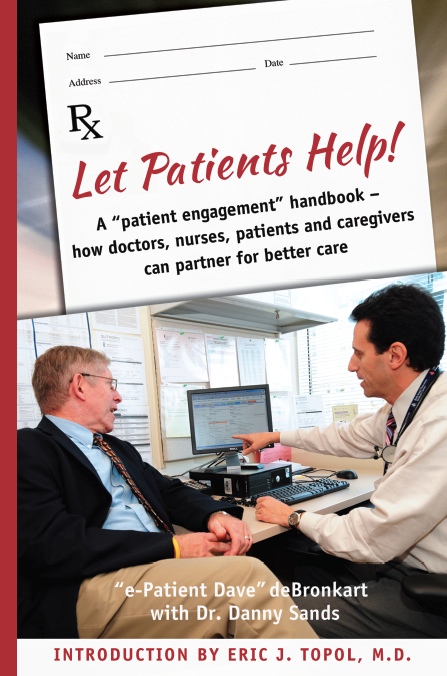 For patients: collaborating effectively
with your clinicians
By Dr. Danny Sands

Appreciate that healthcare should be a collaboration among the patient, the patient's caregivers and family, and clinicians.
Be mutually respectful of each other's contributions. Your physician is an expert in medicine, but you are an expert in you.
Take responsibility for your health—healthcare is not a spectator sport: it's participatory.
Prepare for your visit: read about your conditions, review your record, make a list so you don't forget, and discuss the agenda in advance.
Understand that you're not your doctor's only patient, so respect her time. If some issues really can wait, perhaps another appoint­ment is appropriate. Be respectful of time in your online communication, as well—don't try to manage something in e‑mail that your doctor may be more comfortable discussing on the phone or in an appointment.
Communicate—and if your doctor can't, either speaking or listening, find one who can. If the communication fails, you're the one who suffers most.
Take notes, and get copies of your clinician's.
Don't demand tests or treatments from your physician—discuss them. Your doctor may have good reasons for saying yes, or no; be a good partner.
Be responsible for your wellbeing. Keep in touch. Do your part, do what you can to care for yourself, and get professional help when needed.
Give your care team constructive feedback, both good and bad. Listen to what you hear back, and accept feedback on your own participation. That's partnership.
===========
We welcome discussion!  Providers and patients, does this list work for you? Is it missing something? There will be future editions of the book – let us know in the comments!