Last week in Budapest I had the thrill at delivering a guest lecture at Semmelweis University, in the Healthcare Social Media course created by 28 year old wizard and "medical futurist" @Berci (Bertalan Meszko). I'll have more to say later but I want to get the video posted, because friends familiar with my work are saying "Wow!" about this new approach, and I want to hear why, in the comments! Please speak.
Timeline:
00:00 Introduction
07:30 My talk starts
56:15  Talk ends
73:00 Session ends, followed by Ross Martin's band doing their rock video "Gimme My DaM Data" :-)
[My appearance in the video is not great – here's a tip to my Speaker Academy cadets: even if you've just been on a redeye then another flight and you're exhausted and a little sick, look in the mirror  before starting your talk! Hair was a mess, trousers drooped, and tie was crooked. Oh well – welcome to the Mad Professor look! And no matter what your obstacles, be great for your audience. It's about them, not you.]
My thanks once again to this visionary young doctor. (I'm an unpaid advisor to his startup Webicina, which curates medical resources in healthcare social media.) Here's a snapshot from the lecture.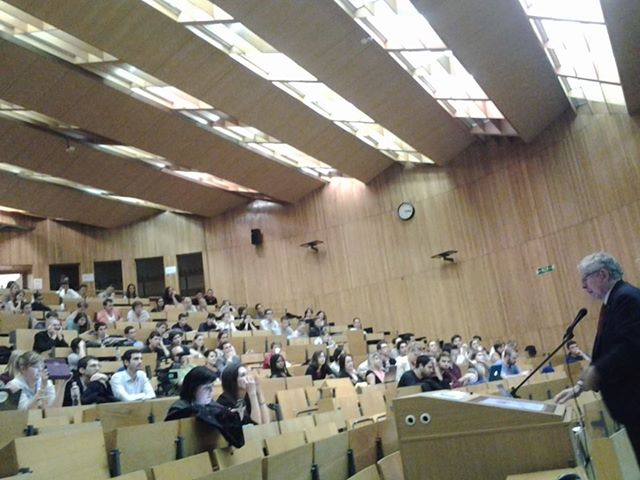 One last thing – this incredibly good video was edited to completion very quickly, including overcoming some technical obstacles in the hall. Seriously, I've seen videos that aren't this good take a month to do, and this was done in a week. While adding the rock video at the end, the guy chopped off the credits. Here they are: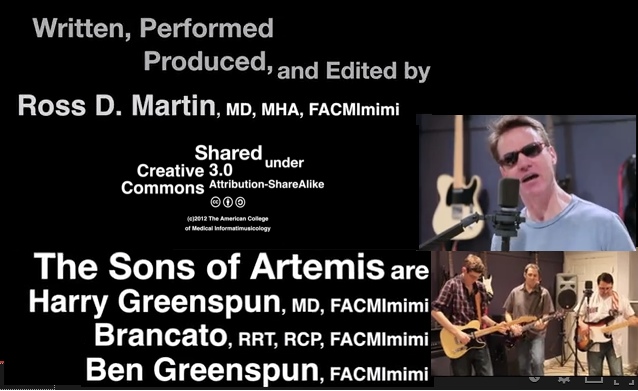 The original video is on Ross's ACMImimi site.