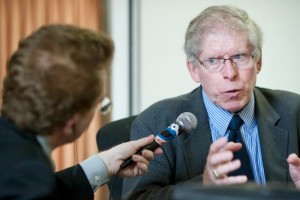 Last May I spoke at Kingston General Hospital in Kingston, Ontario, a couple of hours northeast of Toronto. They're a remarkable hospital – five years ago they were a disaster, and under the leadership of CEO Leslee Thompson and her team, they've become spectacular. One key example: their staffers' hand hygiene achievement is now at 96%! (Most hospitals are at 60% or lower, which is the primary cause of hospital acquired infections ending in death.)
A key to KGH's turnaround was to actively partner with patients they'd previously wronged, and many more patients since; patients are now part of every decision team, even hiring of doctors. As you might imagine, working with them on this event was one of the highlights of my year.
A major treat was meeting two bright stars of Canadian health media, journalist André Picard @PicardOnHealth and Dr. Brian Goldman @NightShiftMD, author of The Night Shift: Real Life in the Heart of the ER and host of the CBC Radio program White Coat, Black Art.
We weren't scheduled  to do an interview but he dragged me into a side room :-) and pulled out his portable recording gear, and we were off to the races. It was going to take 20 minutes, but we went somewhere between 60 and 90. BOY does he get it.
Editing such things down to a coherent show is a big undertaking. This week it finally came out. A 25 minute podcast is here, and ten minutes made it into Saturday's broadcast edition, "The Guru and the Hackers" (around 19:00).
I. Love. How. This. Podcast. Turned. Out. It's about how our health records – our data – and how it can enable a new future of better-informed healthcare, better for both the patient and the clinician. Importantly, we also get into the issue of culture change, including raising people's consciousness about the need to get engaged. And we get into the most futuristic thinking, for instance FutureMed [a conference that's now grown into the world-class Exponential Medicine].
Listen for my guys @Motorcycle_Guy (Keith Boone) and @HugoOC (Hugo Campos), not to mention @DrDannySands, my very own primary physician.
About The Night Shift
I read Brian's book faster than any other book this year, because it taught me something about how doctors think. It's written as one night of an ER doc's life, as patient after patient comes in. He must assess what he can, in not much time, often with little information. As he does, he relates how previous cases from his years of experience influence his thinking – just as your own experience getting through life informs how you do things today.
In my view, a great participatory relationship includes real empathy for your partner's situation: working together, understanding the other person's work and abilities and needs. I recently described this as a collegial relationship, and I think this book can be a great help for patients who want to understand.