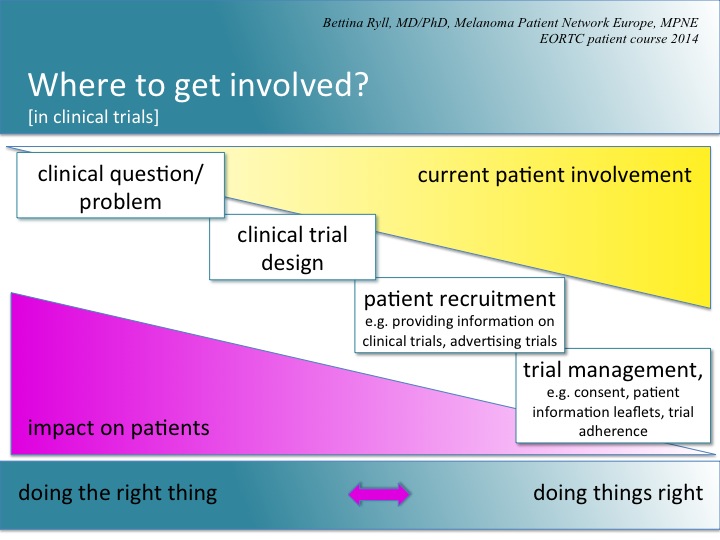 I'm in Madrid at the ESMO Congress, "the European ASCO." (ESMO is the European Society for Medical Oncology; ASCO is the American Society of Clinical Oncology, and its annual conference is huge, as is ESMO's – over 18,000 attendees.)
Yesterday I led a session titled Meaningful patient involvement in clinical trial endpoints, and a couple of slides stopped me in my tracks. (If you don't know the term "endpoints," see discussion below. In short, it's what they decide to measure, to see if a treatment is effective.)
The first slide here (click it to enlarge) points out a disconnect: the yellow triangle shows that today, patients are mostly involved toward the end of the process – after someone has decided what should be studied, and designed a trial to do that. At bottom right, in the blue band, we see that in this model the patient's role is "doing things right."
But the creator of this slide is German doctor Bettina Ryll (living in Sweden), whose husband died of malignant melanoma. She deeply understands both the mechanism of science and how it falls short compared to what we could easily do differently. And at bottom left she points to "doing the right thing." And that, she points out in the purple triangle, is affected by how the earlier stages in the process affect patients: choosing the right thing can have more impact on patients.
The slide was presented by Mrs. Anastassia Negrouk, Head of International Regulatory and Intergroup Unit at EORTC – the leading European cancer research organization.
This is emerging as one of the questions in what I'm starting to call "patient emancipation." What if informed, activated patients played an important role in deciding what scientists study??
An edgier version of that question is: why would we not involve patients? The answer I hear all the time is "Well, patients don't understand this stuff." And to that I respond, to paraphrase Let Patients Help: "It's perverse to exclude people then say they don't understand." Or, as I've seen repeatedly in patient communities: "You might be surprised how much people can learn when their lives are at stake."
That leads to the second graphic, created by Mrs. Negrouk, which goes one step earlier in the process. The graphic above is about designing a trial for a new drug. What about the question of what drug to create? Who gets to say what unmet need should be pursued??
Talk about patient emancipation – wow. What if patients got to boss the industry around, saying "We want you to study this, not that"?  (I don't know the answer – I'm just asking.)
My own slides from this session have a similar angle, but expressed differently. They're here on Slideshare.
More about endpoints
Definition: The National Cancer Institute has the clearest explanation I've found: "In clinical trials, an event or outcome that can be measured objectively to determine whether the intervention being studied is beneficial." Wikipedia adds a nice clear example about the choice of endpoint:
For example, a clinical trial investigating the ability of a medication to prevent heart attack might use chest pain as a clinical endpoint. Any patient enrolled in the trial who develops chest pain over the course of the trial, then, would be counted as having reached that clinical endpoint.

The results would ultimately reflect the fraction of patients who reached the endpoint of having developed chest pain, compared with the overall number of people enrolled [not the number of people who had heart attacks].
In that example, chest pain is a "surrogate endpoint" – not the result you ultimately want to achieve (fewer heart attacks), but something that's easier to get at – something "that may correlate with a real clinical endpoint but doesn't necessarily have a guaranteed relationship." Surrogate endpoints are almost always chosen because they're much easier and less expensive to test.
In any case it's important to be clear about what you're measuring, and why … and that's where the question arises of who gets to say what researchers should pursue.